Rockets to Honor College Football Hall of Fame Inductees
---
The University of Toledo Athletic Department will honor its three members of the College Football Hall of Fame with a special dinner celebration on Friday, Sept. 9, at the Pinnacle in Maumee.
The College Football Hall of Fame Celebration will begin with a cocktail hour at 5:30 p.m. and will be followed by a tailgate-style buffet at 6:30 p.m. A special program featuring all three inductees will begin at 7:00 p.m.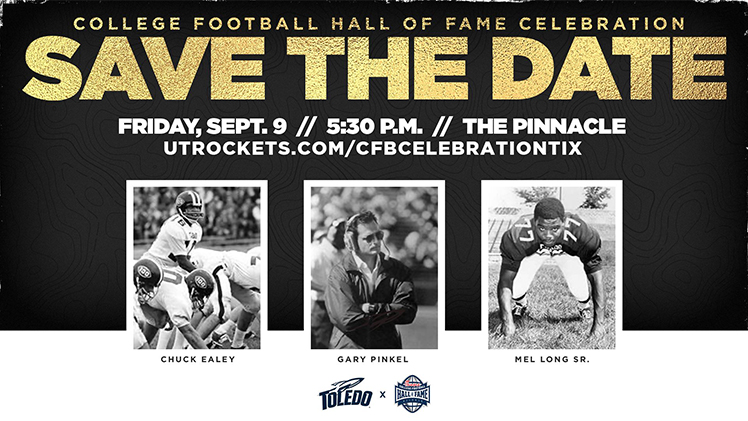 The honorees are Chuck Ealey and Mel Long, stars of the 1969-71 Rockets that went 35-0 and put Toledo on the college football map, and Coach Gary Pinkel, who set the school record for victories during his tenure from 1991-2000. Ealey and Pinkel are being officially inducted into the College Football Hall of Fame in Las Vegas on Dec. 6. Long was inducted into the prestigious group in 1998.
Tickets to the event are $25.00 per person and are on sale now at the UTRockets.com website.  For $40.00, fans can purchase a ticket to the event and a ticket to the Rockets' game against UMass on Saturday, Sept. 10, during which all three Hall of Fame inductees will be honored on the field.
Ealey, Long and Pinkel will all be presented with a framed water-color portrait that was painted by Aaron Bivins, the Toledo Football team's all-time leading tackler and 2006 inductee into the school's Varsity T Hall of Fame.
Attendees at the celebration event will receive football card replicas of the portraits. A limited number of the commemorative football cards will be given out to fans attending the UMass game.
Fans can visit the event's webpage for more information.