Ten Weeks of Fall Semester Events, Activities to Welcome Students to Campus
---
From a barbecue with The University of Toledo president to an on-campus carnival, a full slate of fall semester activities and events are lined up to welcome new and returning students to campus.
Sponsored by the Division of Student Affairs, Welcome Weeks is a calendar-worth of campus-wide events — enough to extend the normally six weeks of activities to 10 weeks, from Aug. 27 to Nov. 6.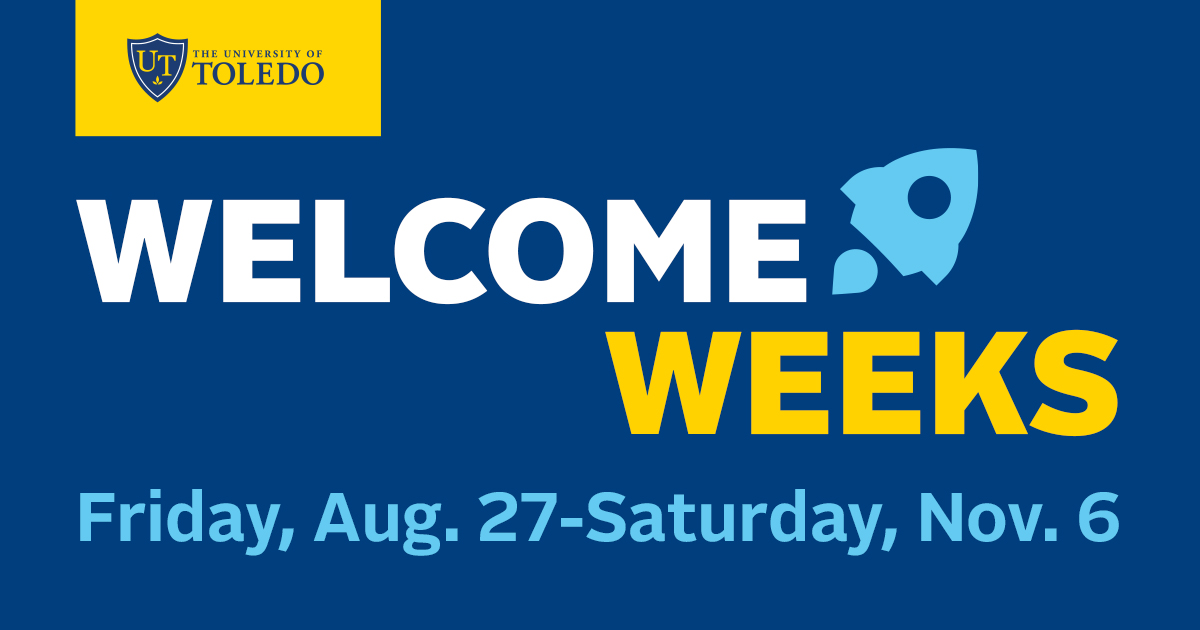 Welcome Weeks begins with the New Student Convocation. The kick-off event for Rocket Welcome Weekend, Student Convocation is a welcome and introduction for incoming students into the Rocket Family by key faculty, staff and student leaders. The event is scheduled from noon to 1 p.m. Friday, Aug. 27, in Savage Arena, with an After-Convocation BBQ immediately following Convocation.
Other Welcome Weeks highlights include:
Friday, Aug. 27
•  Night at the Rec, 9 p.m. to midnight, Student Recreation Center. Experience all that UToledo Rec has to offer including group fitness, intramural sports, aquatic programming and MX4 demonstrations with giveaways throughout the late-night event.
Saturday, Aug. 28
•  Residence Halls Association Bonfire, 6 to 10 p.m., the Flatlands. The RHA is partnering with National Residence Hall Honorary to host the annual tradition for all students.
•  Campus Activities and Programming Carnival, 8 to 11 p.m., Lot 10 on Main Campus. The carnival will feature activities such as a mechanical bull, rock climbing wall and extreme air, as well as carnival treats such as funnel sticks, snow cones and cotton candy.
Sunday, Aug. 29
•  Student Involvement Fair, 11 a.m. to 3 p.m., Centennial Mall. UToledo student organizations, campus departments and local campus partners will be on hand to connect with students and share information about opportunities for involvement outside of the classroom.
Tuesday, Aug. 31
•  President's Backyard BBQ, 11 a.m. to 1:30 p.m. at Centennial Mall on Main Campus and at the patio outside of Four Seasons Bistro on Health Science Campus. All UToledo students, faculty and staff are invited for free food, activities, games and the opportunity to meet your president. Giveaways include Beats Studio Buds.
Tuesday, Sept. 7
•  Office of Multicultural Student Success Patio Party, noon to 3 p.m., Student Union Patio. Stop by to celebrate the new semester with free food, activities and prizes and learn more about the office.
Monday, Sept. 13
•  Sundae on a Monday, 3 to 4 p.m., Centennial Mall. Enjoy an ice cream sundae and meet the University's senior leaders: Dr. Gregory Postel, president; Dr. Phillip "Flapp" Cockrell, vice president of student affairs and vice provost; and Dr. Karen Bjorkman, provost and executive vice president for academic affairs.
Saturday, Sept. 18
•  President's Tailgate, 1:30 to 3:30 p.m. in a tent near University Parks Trail and Rocket Hall. Students are invited to meet President Postel. Stop by for free food before the UToledo-Colorado State football game.
"Welcome Weeks activities and events are a great opportunity to engage students with the many resources offered throughout campus," said Demond Pryor, director of the Office of Recreational Services. "I encourage faculty and staff to sign up for volunteer opportunities that help welcome all Rockets back to campus."
For a complete list of the dozens of events and activities, visit the Welcome Weeks website or the InvoNet calendar. And to volunteer at one or more events, time and date registrations are available at the Fall 2021 Division of Student Affairs Programs and Events website.