Lots to close on football game days
---
This year's Rocket football home opener is against New Hampshire in the Glass Bowl Saturday, Aug. 30.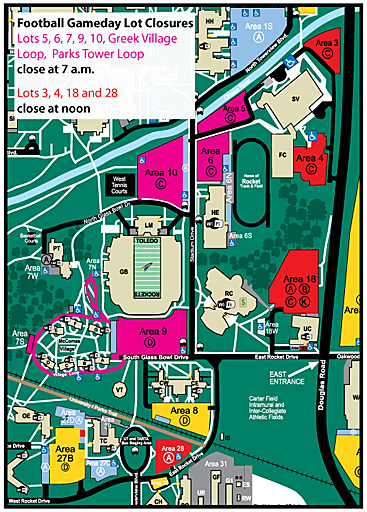 To ensure the Toledo community has space to park at home games, the University has released its schedule of lot closures for the 2014 season.
Lots 5, 6, 7, 9, 10, including the Greek Village Loop and Parks Tower Loop, will close starting at 7 a.m. on game days. Vehicles that are parked in Lot 9 on game days will be towed.
Lots 3, 4, 18 and 28 will close at noon.
In addition, Lots 1N, 1S and Lot 2 will close Saturday, Oct. 25, at 6 a.m. for the Homecoming parade and football game against UMass.
The UT Police Department also offers a text message and email alert program as a reminder of towing on game days to those who usually park in Lot 9. To register, you must sign in or create a UT Alert account at https://stuweb00.utoledo.edu/redalert, click on "groups" and subscribe to the UT Football Lot 9 tow alert group.
The 2014 home football schedule is:
• Saturday, Aug. 30, New Hampshire, 7 p.m.;
• Saturday, Sept. 6, Missouri, 12 p.m.;
• Saturday, Sept. 20, Ball State, TBA.;
• Saturday, Sept. 27, Central Michigan, TBA.;
• Saturday, Oct. 25, UMass (Homecoming), 2 p.m.; and
• Wednesday, Nov. 19, Bowling Green, 8 p.m.