Rockets ready to defend Mid-American Conference crown
---
See you at the game! As Toledo sets out to defend its 2017 Mid-American Conference title, six of the Rockets' seven home games will be played in September and October.
Highlighting the home slate is a Sept. 15 matchup with Miami (Fla.). The Hurricanes currently are ranked No. 8 in the country and could potentially be in the top 10 when they visit the Glass Bowl next month.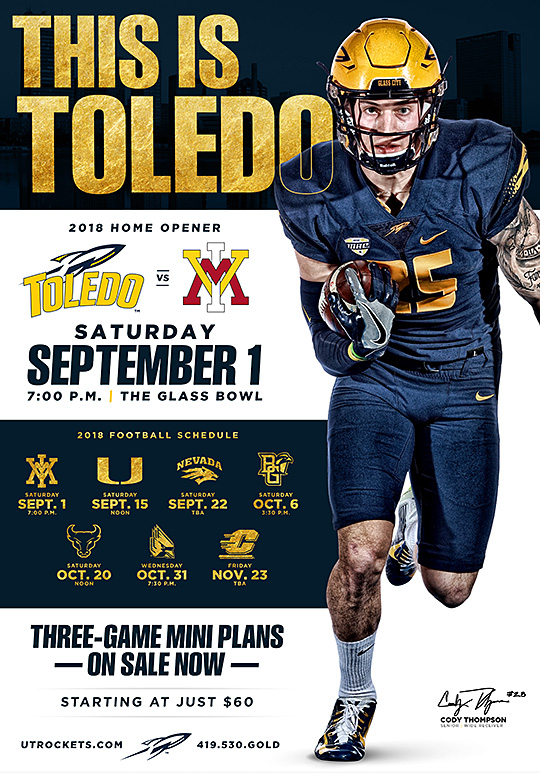 The Rockets also will host the Battle of I-75 against archrival Bowling Green Saturday, Oct. 6. That game also will be Homecoming for Toledo. The Rockets have won eight consecutive games vs. the Falcons, evening the all-time series at 39-39-4.
Four games on Toledo's 2018 schedule are set for national TV broadcast; additional TV contests could be added later. The four national TV games are Oct. 25 at Western Michigan (ESPN2 or CBS Sports Network); Oct. 31 vs. Ball State (ESPN2); Nov. 7 at Northern Illinois (ESPN2 or ESPNU); and Nov. 15 at Kent State (CBSSN).
Toledo opens its season with three consecutive home games, beginning with Virginia Military Institute Saturday, Sept. 1. Following a bye week, the Rockets will host Miami Sept. 15 and Nevada Sept. 22.
UT closes out the non-conference portion of its schedule with a trip to Fresno State Sept. 29.
In addition to Bowling Green, Mid-American Conference opponents coming to the Glass Bowl are Buffalo (Oct. 20), Ball State (Oct. 31) and Central Michigan (Nov. 23).
UT will hit the road to face Eastern Michigan (Oct. 13), Western Michigan (Oct. 25), Northern Illinois (Nov. 7) and Kent State (Nov. 15).
Head Coach Jason Candle's 2018 team returns 14 starters from last season's MAC Championship squad, including one of the best receiving corps in the nation. Senior wide receiver Cody Thompson, who returns for his fifth season following an injury in 2017, was a first-team All-MAC selection in 2016. He has caught 133 passes and 20 TD passes in his Rocket career. Junior Diontae Johnson was a first-team All-MAC choice in 2017, catching 72 passes for a school-record 1,257 yards and 13 scores. Senior Jon'Vea Johnson has caught 82 passes and 15 touchdowns over the past two seasons.
"We built our scheme to match our players in years past and have been very successful in doing that — offensively, defensively and in the kicking game. The challenges remain the same as we approach this year, too," Candle said.
"The fun part is to get the moving pieces in the right place to keep all the arrows in your program headed in the right direction. That's where you go from a good team to a great team, if you can get all those arrows going in the right direction and get everybody on the same page. That's what we're constantly working to do each and every day."
Season tickets are on sale at the UT Athletic Ticket Office, online at utrockets.com or at 419.530.GOLD (4653). Faculty and staff can buy tickets half off with ID, and UT students are admitted free with ID.