Pregame and game-day parking reminders for Sept. 1
---
The University of Toledo's first football game of the season is Saturday, Sept. 1, when the Rockets take on the Virginia Military Institute's Keydets. Students are reminded that they may attend games free by presenting their Rocket ID card.
To ensure a successful game-day parking experience for all UT fans, students, faculty and staff are asked to review the following information: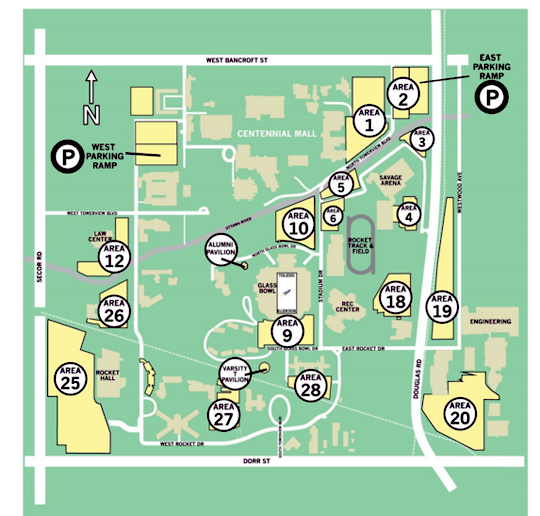 • Overnight parking is not permitted prior to all home football games, even if a pass is displayed.
• On Friday, Aug. 31, lots 6, 9 and 10 will close at 9 p.m. All vehicles in these areas must be moved elsewhere before 2 a.m.
• Beginning at 3 a.m. on Saturday, Sept. 1, any vehicles remaining in these areas will be towed at the owner's expense.
• Lots 3, 4, 5, 6, 9 and 10 will open at 6 a.m. on game days. Fans intending to park in these areas will need to have the appropriate parking pass available to allow entry.
• On all game days, lots 18 and 28 will close at 1 p.m. for public parking, and will open for game-day parking with the appropriate game-day parking pass.
• General admission parking areas — 1, 2, 12, 13, 19, 20, 25 and 26, as well as the east and west parking ramps — are open six hours prior to game time; overnight parking is not permitted.
• UT students, faculty and staff may park for free in any of the general admission parking areas on game day.
For Saturday, Sept. 1, general admission parking will open at 1 p.m. To make entering campus and parking more convenient for fans, the University will no longer collect parking fees or general admission passes at the entrance of these parking lots.
All parking is based on availability; if a parking area is full, fans will be directed to the next available parking lot.
More information about football parking, including a map of parking areas, is available here.