Rocket Battalion Run to Remember to Return Sept. 11
---
The Army ROTC Rocket Battalion is running to remember America's greatest tragedy.
The University of Toledo Army ROTC Program is inviting the community to participate in its second annual Run to Remember Wednesday, Sept. 11.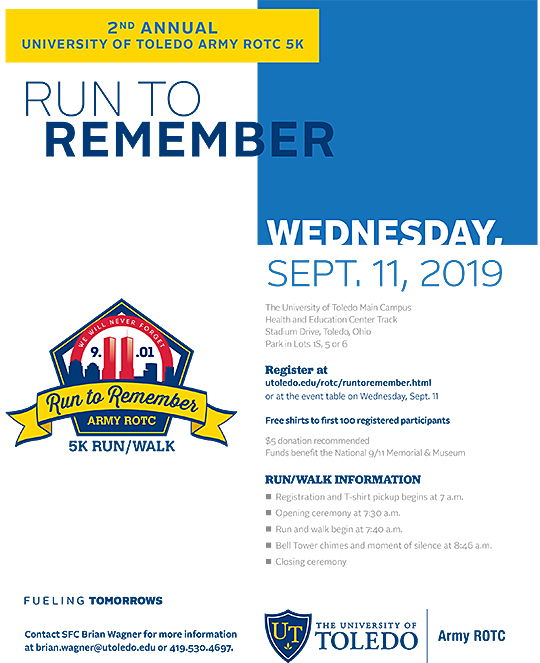 Registration and T-shirt pickup will begin at 7 a.m. at the UToledo track by the Health Education Center on Main Campus. An opening ceremony will follow at 7:30 a.m., and the run and walk will begin at 7:40 a.m.
University Hall's bell tower will chime at 8:46 a.m., the time when the attacks began in 2001, and the event will conclude with a moment of silence.
"We're running to honor and commemorate the men and women who showed selfless service as they descended to Ground Zero to help in the search and rescue efforts of those who were either injured or killed during the 9/11 attacks," Maj. Colby Pepon, professor and chair of the Military Science and Leadership Department, said.
"Our small part with this run is showing respect to not only those who were injured or killed that day, but it's also our way of showing our pride and support for the men and women who fought in support of Operation Iraqi Freedom and Operation Enduring Freedom," he said.
Pepon believes it is important to remember and pay tribute on 9/11 because it is a day that past and future endeavors to preserve freedom are recognized by Americans at home and abroad.
Participating in the event is free; however, a donation of at least $5 is recommended.
All proceeds will benefit the National 9/11 Memorial and Museum.
Register at the Army ROTC Rocket Battalion website or at the event table Wednesday, Sept. 11, at the track.