Women's Mentoring Network to Host Giving Yourself Grace Panel Discussion
---
The University of Toledo's Women's Mentoring Network is hosting a panel discussion about how to survive and thrive in this new reality.
The virtual event titled Giving Yourself Grace in Uncertain Times will take place noon to 1p.m. Wednesday, Sept. 16 on Webex. RSVP by completing the webform on the Women's Mentoring Network webpage. Participants will receive a confirmation email with a link to access the event.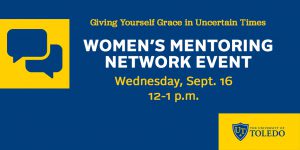 The discussion aims to address feelings of being overwhelmed and stressed by providing practical advice to achieve a new sense of balance to reach your goals and promote overall well-being. Participants will learn about resources and strategies for managing stress, practicing self-care, and navigating the blurred lines between work and home in the age of COVID-19.
Dr. Linda A. Lewandowski, vice provost for health affairs for interprofessional and community partnership, and dean of the College of Nursing, will moderate the event.
Panel participants will be:
• Dr. Tameaka Gray El, assistant professor in the College of Nursing;
• Rachael Decker, associate director of programs and assessments for the Office of Recreational Services;
• Dr. Amy Riese, assistant professor Department of Psychiatry in the College of Medicine and Life Sciences; and
• Sandra Bishop, a representative with IMPACT Solutions.
This event is co-sponsored by UToledo's Catharine S. Eberly Center, Office of the Provost, College of Nursing and Rocket Wellness.
For more information, contact the Catharine S. Eberly Center for Women at 419.530.8570 or ecwomen@utoledo.edu.