Updated: 2020 Varsity 'T' Hall of Fame Class Announced
---
Update: The University of Toledo Varsity T Club announced Oct. 14 that its 2020 Hall of Fame induction has been moved to fall 2021 due to safety concerns related to the COVID-19 pandemic. Members of the Class of 2020 will be honored at an induction banquet and at halftime of a Rocket Football game on dates to be determined in the fall of 2021.
The University of Toledo Varsity 'T' Hall of Fame will induct seven former student-athletes this fall.
A dinner will be scheduled at a later date, pending developments with the COVID-19 pandemic. Information on purchasing tickets will be announced after the event is scheduled.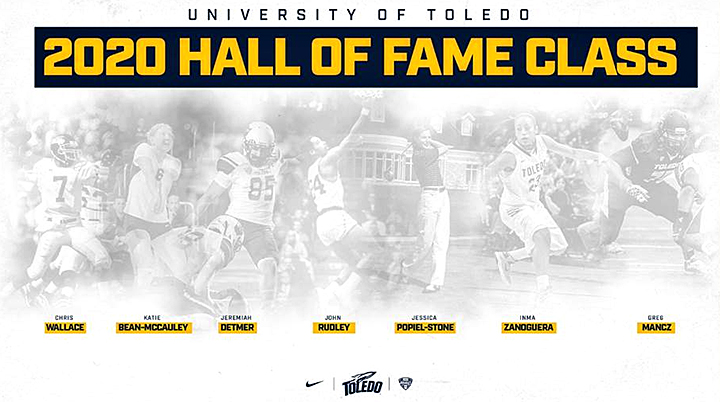 The 2020 Varsity 'T' Hall of Fame inductees are:
Kate Bean McCauley, women's volleyball, 2003 to 2006. She dominates the Toledo volleyball record book, ranking first in career attacks (4,522), second in career kills (1,515) and career service aces (173), third in career kills per set (3.40) and fifth in career digs (1,401). She also ranks fourth for most kills (435) in a season, and her 39 digs vs. Ball State as a senior was the most ever by a Rocket in a match. A native of Louisville, Ky., McCauley made the Mid-American Conference All-Tournament Team in 2005. She is the only Rocket in volleyball program history to be named to the College Sports Information Directors of America Academic All-America First Team (2005 and 2006) and is one of two student-athletes in Toledo history to be a member of the first team on more than one occasion. She also was a three-time Academic All-MAC team selection and a three-time Academic All-District pick.
Jeremiah Detmer, football, 2011 to 2014. A three-time All-MAC selection, Detmer was the 2013 MAC Special Teams Player of the Year. That season, Detmer was a semifinalist for the Lou Groza Award that goes to the nation's top kicker, a year in which he also made first-team All-MAC, connecting on 19 of 20 field goals and 44 of 45 extra points. Detmer is second on Toledo's all-time field-goal list with 65, trailing only Rusty Hanna (68 from 1989 to 1992), and seventh all-time among MAC kickers. He is the MAC's all-time leader in field-goal percentage (65-77/84.4%) and ranks third in points scored in Toledo history with 340. His long field goal of 52 yards ranks second in Toledo history. Detmer was named MAC West Division Special Teams Player of the Week nine times during his career. He ranked No. 44 on Toledo's All-Century Team released in 2017 and was the only kicker on the list. As a freshman in 2011, Detmer was used mostly for kickoffs, but he still hit field goals of 50 and 52 yards. He took over the field-goal duties full time in 2012, at one point making 17 field goals in a row. He ended the season hitting 24 of 29 boots, earning third-team All-MAC honors. His best game in 2012 came in a 29-23 win over No. 18 Cincinnati in which he hit all five of his field-goal attempts. In 2013, he extended his consecutive field-goal streak to 23, the fifth-longest streak in NCAA history. He also ranked second in the nation in field-goal percentage (95.0%). As a senior co-captain, he made second-team All-MAC, connecting on 17 of 22 field goals and nailing 57 of 59 extra points. A three-time Academic All-MAC selection, Detmer made Academic All-District in 2013. He graduated with a degree in education in 2015.
Greg Mancz, football, 2010 to 2014. A three-time All-MAC selection, Mancz won the Vern Smith Award as the top player in the MAC in 2014, the only offensive lineman ever to earn that honor. Mancz was a four-year starter on Rocket teams that went 34-17, and won two division co-championships and two bowl games. As a freshman, he earned Freshman All-America (Yahoo Sports) and Third-Team Freshman All-America (Phil Steele) honors in 2011. He was a key part of an offense that ranked eighth in the nation and first in the MAC in scoring (42.2), and 10th in the nation and first in the MAC in total offense (481.3). Toledo's offensive line also ranked tied for sixth in the nation and first in the MAC in fewest sacks allowed (10) that season. He went on to make third-team All-MAC as a sophomore and second-team all-league as a junior. In his junior season, the Rocket offensive line allowed six sacks in 12 games, the fewest in the country. Mancz earned first-team All-MAC honors in 2014 for a Rocket offense that ranked No. 1 in the MAC in total offense (486.3) and in rushing offense (247.3). He also earned second-team All-America (Football Writers Association of America) honors, becoming the first Toledo offensive lineman to make either first- or second-team All-America on one of the five major All-America teams since Dan Bukovich made the Associated Press first-team in 1938. A four-time Academic All-MAC pick, Mancz has played five seasons in the NFL with Houston Texans. Mancz ranked No. 36 on Toledo's All-Century Team that was released in 2017.
Jessica Popiel Stone, women's golf, 1996 to 1999. She was the MAC Player of the Year and a first-team All-MAC selection as a senior in 1999, compiling a career-best stroke average of 78.7 that year. She also made the MAC All-Tournament Team in 1998, a year in which the Rockets won the MAC Invitational Tournament. Popiel was a tournament medalist twice in her career. Additionally, she was named a National Golf Coaches Association All-American in 1997 and 1998, and won the MAC Presidential Award (1998-99) and MAC Commissioners Award (1998-99). A four-year letter winner, Popiel co-captained the Rockets for the 1998-99 season. She was the first Rocket to compete in an LPGA Tour event, playing in the Jamie Farr Toledo Classic (now Marathon Classic) from 2000 to 2002.
Dr. John Rudley, men's basketball, 1965 to 1969. Rudley was a four-year starter and two-time co-captain at point guard, helping to guide the 1966-67 team to a 23-2 record, MAC Championship and NCAA Tournament appearance. He was the team's floor general and leading passer in an era when assists were not kept as a statistic. With scorers like Steve Mix, John Brisker and Bob Miller on the floor, he likely had big assist numbers. Rudley averaged 7.4 points and 3.9 rebounds as a sophomore, 12.0 points and 4.6 rebounds as a junior, and 15.0 points and 4.8 rebounds as a senior captain. Rudley received his bachelor's degree in business administration from UToledo, then went on to earn his master's degree and Ph.D. in administration from Tennessee State University. He served as the president of Texas Southern University from 2008 to 2016, and is president emeritus and distinguished professor of business there. Previously, he served as interim chancellor and president at the University of Houston (2007 to 2008), as well as vice chancellor for business and finance at Houston (2002 to 2007), vice chancellor for business and finance for the University of Tennessee Board of Regents (1995 to 2002), vice chancellor for administration and finance at the University of Tennessee-Chattanooga (1987 to 1991, 1992 to 1995), and vice president for fiscal affairs at Texas Southern (1981 to 1987). He also worked for former Tennessee Gov. and Secretary of Education Lamar Alexander at the U.S. Dept. of Education from 1991 to 1992.
Chris Wallace, football 1995 to 1998. Wallace played quarterback for four seasons at Toledo and was the starter in 1997 and 1998. He ranks fourth in career touchdown passes (44); fifth in career passing yardage (5,454) and passing attempts (848); sixth in career passing completions; and seventh in completion percentage (54.7). He accumulated most of these numbers in just two seasons. As a junior in 1997, Wallace set records (all since broken) in passing yardage (2,955), passes completed (232) and TD passes (27). He still holds the single-season record for passes attempted (433). For his efforts in 1997, he was named second-team All-MAC. His biggest game as a Rocket came in 1997 when he passed for 364 yards in a thrilling win over Miami, tossing a winning TD strike to Brock Kreitzburg with just seconds remaining. Wallace led the Rockets to division titles in both 1997 and 1998, including an 8-0 start in 1997 that saw the Rockets move to No. 18 in the Associated Press poll. He played 18 seasons of professional arena football, retiring following the 2018 season. Wallace spent eight seasons with the Florida Firecats, setting league records in career touchdowns (484) and passes completed (1,797), and team records for TD passes (100) and passing yards (3,918). He led the Florida Tarpons to league titles in 2012 and 2013, and rejoined the team in 2015 until his retirement in 2018. Wallace was a high school football coach and dean of students at the Florida Christian Institute in Fort Myers for three years. He returned to Ohio to take care of his father, James, during his battle with Alzheimer's disease, which ended in 2011. Wallace lives in Springfield, where he serves as the community mentor supervisor for the Springfield City School District. Wallace leads the Springfield Chapter of My Brothers Keeper, which was launched by President Obama as a national initiative to address the opportunity gaps facing young minority male students. The program connects students with community leaders through mentoring relationships and educational events to help ensure all young people reach their full potential. Wallace also coaches football at his alma mater, Springfield High School, where he serves as the offensive coordinator. In 2019, he helped lead the Wildcats to their first state semifinals in school history. He also serves as the head coach for the freshman basketball team at Springfield.
Inma Zanoguera, women's basketball, 2011 to 2015. Zanoguera was a three-time All-MAC honoree who played on teams that averaged 22 wins per season and won one MAC regular-season championship and two division crowns. As a senior, Zanoguera earned first-team All-MAC honors, leading the Rockets in scoring (15.4), rebounding (6.7) and assists (5.0). She was selected as one of 30 NCAA women's basketball nominees for 2014-15 Senior CLASS Award, only the second player in school history to make the list. As a junior, she averaged a team-best 14.0 points and 8.7 rebounds, earning second-team All-MAC. Zanoguera was a third-team All-MAC pick as a sophomore, averaging 10.2 points and 5.6 rebounds for a Rocket team that went 29-4 and won the MAC regular-season championship title. She was named MAC West Division Player of the Week six times in her career. Zanoguera, who played both guard and forward as a collegian, ranks fourth in school history in career minutes played (3,936), fifth in free-throw percentage (.819, 258 of 315) and games played (132), seventh in steals (195), 10th in rebounds (781), 10th in assists (375) and 15th in scoring (1,424 points). A two-time team captain, Zanoguera was twice named Academic All-MAC. She graduated with a degree in communication. After graduation, she played professional basketball in Italy. A native of Llucmajor, Spain, on the island of Majorca, Zanoguera played for all Spanish national teams from U16 to the senior team. She was a three-time European Championship Gold Medalist (2011, 2012, 2013); a Bronze Medalist with the Three-on-Three Senior Team in the 2015 European Olympics in Baku, Azerbaijan; and was selected to the All-Europe U20 First Team in 2013. Zanoguera was featured in a 2018 documentary titled "Running Home," which chronicled her journey to the Western Sahara refugee camps in Algeria, where many Sahrawi people, including her mother, fled during a civil war in neighboring Morocco. While there, Zanoguera ran and won the Sahara Marathon in her first attempt to run the 26-plus-mile event.
Others to be honored by the Varsity 'T' Club include Dan Saevig, who will receive the Distinguished Service Award. Saevig retired in March as UToledo's vice president of alumni engagement after serving his alma mater for 30 years. And receiving honorary lifetime membership awards from the Varsity 'T' Club will be former Toledo Mayor Mike Bell, a football player at UToledo from 1973 to 1976, and Jeff Hepinstall, who played football for the Rockets from 1974 to 1977 and has been an active member of the Varsity 'T' Club for many years.