UT alumnus' play about dealing with dementia to debut
---
"Remember Me," an original play written by Maxwell K. Cleary, will premiere this week in the Center for Performing Arts Recital Hall.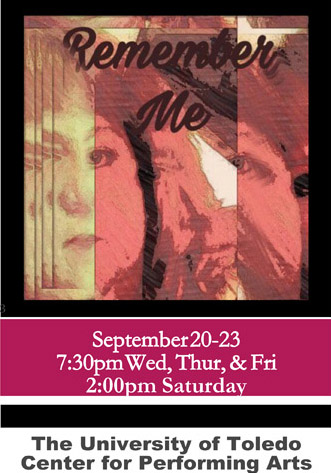 Curtain time is 7:30 p.m. for Wednesday through Friday, Sept. 20-22, and 2 p.m. for Saturday, Sept. 23.
"Remember Me" is a play that focuses on dementia while taking a look at what reality is — or isn't — for the family, the caregivers and the person with the condition. It shows the barriers, demands and isolation families face when trying to care for a loved one.
Cleary graduated from UT with a master's degree in social work in 2016 and is a hospice social worker in Toledo. His practice experience with grief is evident throughout the play.
Issue Box Theatre is producing the play and is headed by Rosie Best, a social worker in the Toledo community who has a history in theater education. While taking classes at UT, she started Issue Box as a community project to bring together art and social justice action. Best graduated from the University with a master's degree in social work in 2016.
The play will be performed in conjunction with the
UT International Human Trafficking and Social Justice Conference
.
Tickets are $10 and can be purchased at issueboxtheatre.com.
Proceeds from ticket sales from non-registered conference goers will go to the Alzheimer's and Dementia Care Services of Northwestern Ohio and the UT Human Trafficking and Social Justice Institute.