12 Rockets Named MAC Distinguished Scholar Athletes
September 23, 2021 |
Athletics
,
News
,
UToday
,
Alumni
,
Arts and Letters
,
Business and Innovation
,
Engineering
,
Health and Human Services
,
Judith Herb College of Education
,
University College
By Paul Helgren
---
Twelve University of Toledo student-athletes were recently named 2020-21 Distinguished Scholar Athletes by the Mid-American Conference. The awards were received following strong contributions in the field of competition and exemplary work in the classroom in the 2020-21 school year.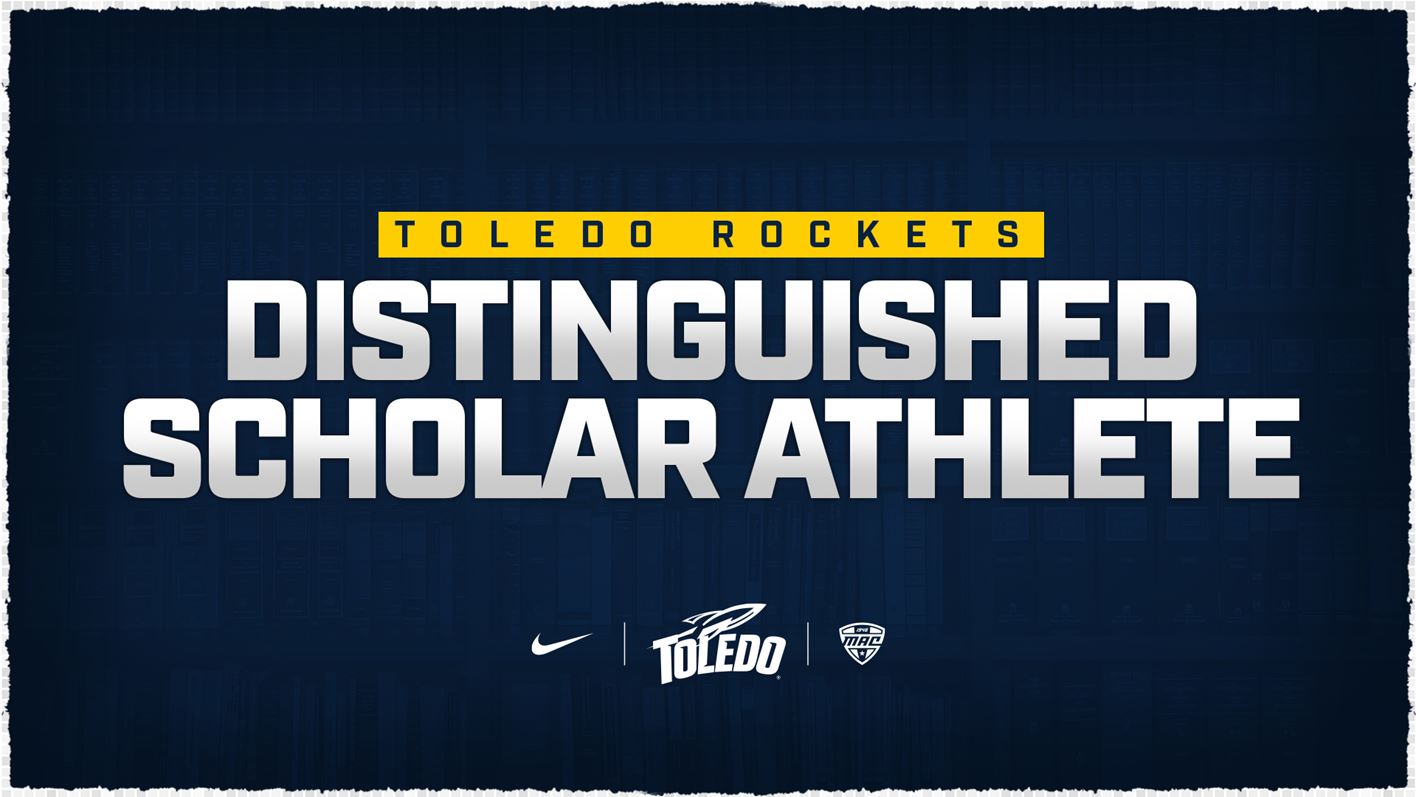 The Distinguished Scholar Athlete honor is given to student-athletes who made an All-MAC team, the Academic All-MAC team and maintained a cumulative GPA of at least a 3.5. Following each season, any student-athlete with a 3.20 GPA and participation in at least 50% of the contests is automatically named to the Academic All-MAC Team for each sport. First-year students and junior college transfers in their first year of residence are not eligible for the award.
The 2020-21 MAC Distinguished Scholar Athletes – Toledo Honorees:
Men's Cross Country
•  Jacob Harris (Exercise Science, 3.743 GPA)
Harris earned first-team All-MAC honors after finishing in seventh place with a time of 24:25.4 at the 2020 MAC Men's Cross Country Championships.
Football
•  Bryce Harris (Master's in School Counseling, 3.765 GPA)
Harris earned first-team All-MAC honors as a center on the Rockets' football team in 2020.
Men's Basketball
•  Spencer Littleson (Graduate Student, Business Administration, 3.750 GPA)
Littleson earned second-team All-MAC honors as well as MAC All-Defensive Team honors as a guard on the Rockets' basketball team in the 2020-21 season. Littleson is currently playing professional basketball in Belgium.
Women's Swimming & Diving
•  Kennedy Lovell (English, 4.00 GPA)
Lovell earned All-MAC honors by placing fifth in the 200 freestyle at the 2021 MAC Championships with a personal best time of 1:48.70.
Women's Track & Field
•  Rayna Horner (Social Work, 3.808 GPA)
Horner received All-MAC honors after placing second in the distance medley relay with a time of 11:38.18 at the 2021 Indoor MAC Championships.
•  Petronela Simiuc (Liberal Studies, 3.720 GPA)
Simiuc qualified in the 1500m at the 2021 NCAA Outdoor Track & Field Championships. She also won the 800m and 1500m at the 2021 Outdoor MAC Championships.
•  Stephanie Sherman (Bioengineering, 3.935 GPA)
Sherman was named second-team All-America in the 10,000m, taking 16th place at the NCAA Championships with a school record time of 33:25.31. She also finished second in the 5000m and 10,000m at the 2021 Outdoor MAC Championship.
•  Emily Vining (Marketing, 3.957 GPA)
Vining also placed second at the Indoor MAC Championships in the distance medley relay. In the outdoor season, Vining qualified for the NCAA Regionals in the 3000m steeplechase.
Baseball
•  Chris Meyers (Finance, 3.64 GPA)
Meyers earned first-team All-MAC, third-team All-America and first-team All-Region honors, and was named the MAC Player of the Year in 2021. Meyers was drafted in the 13th round of the MLB Draft by the Detroit Tigers.
Softball
•  Dayna Denner (Graduate – Business Administration, 3.810 GPA)
Denner was named the 2021 MAC Player of the Year, in addition to receiving NFCA All-Great Lakes region first-team and first-team All-MAC honors.
Men's Tennis
•  Thawin Suksathaporn (Mechanical Engineering, 3.53 GPA)
Suksathaporn was named second-team All-MAC, finishing with a 9-7 overall record in 2020-21 and earning the league's Jack Vredevelt Sportsmanship Award.
Women's Tennis
•  Sloane Teske (Adolescent and Young Adult Education, 3.52 GPA)
Teske was named second-team All-MAC, posting an overall record of 13-9 in 2020-21.