UT Homecoming football game Oct. 7 to start at noon
---
A kickoff time has been announced for Toledo's Homecoming football game against Eastern Michigan Saturday, Oct. 7.
The Mid-American Conference matchup at the Glass Bowl will kick at noon and will be televised on CBS Sports Network.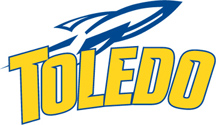 The Edward C. and Helen G. Schmakel Homecoming Parade will start at 8 a.m. Saturday. More information on the parade and other Homecoming festivities can be found here.
Tickets can be purchased at the UT Athletic Ticket Office, online at utrockets.com or by calling 419.530.GOLD (4653). Tickets are half-off for UT employees and retirees, and UT students are admitted free to home games with ID.
UT alumni may purchase specially priced tickets for $23 prior to game day. For online orders, use the promo code UTALUM to receive the discount.
Click to access the login or register cheese