UToledo Rolls Out the Red Carpet for Homecoming 2021
---
Organizers have made changes to several of the Homecoming events. Rocky and Rocksy won't be the only celebrities on campus for Homecoming this year.
The Homecoming Committee has planned a week of activities that everyone will be talking about and you never know who might show up on the "Rockets Red Carpet" for 2021.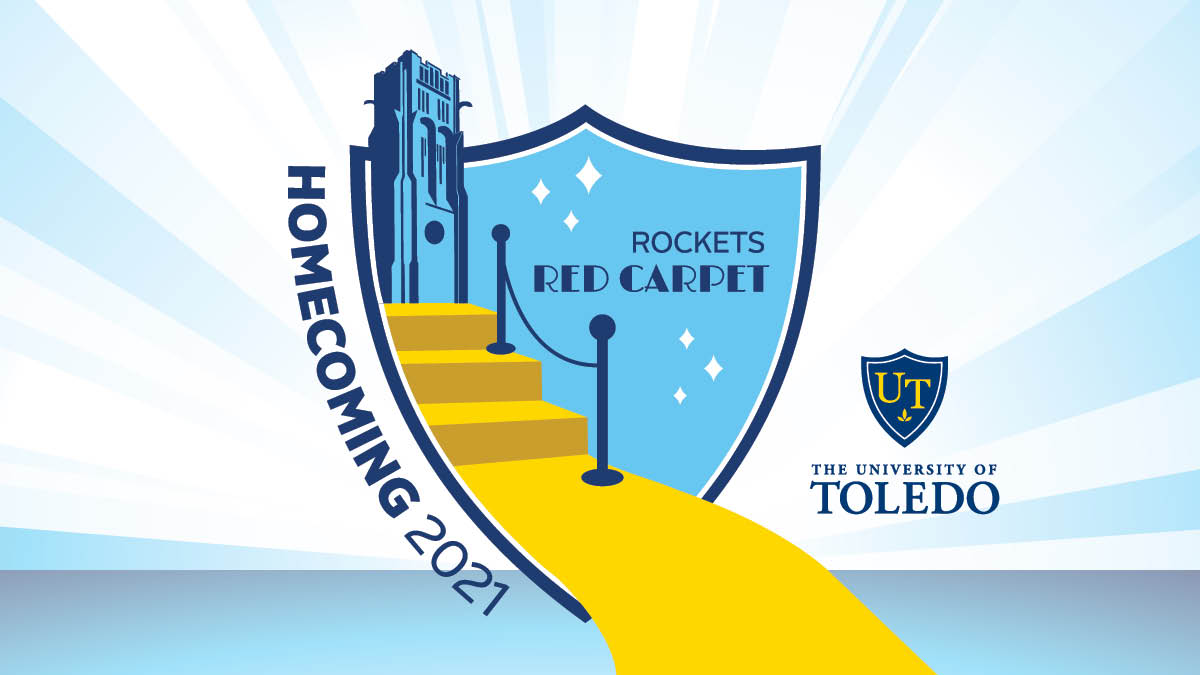 "We are rolling out the red carpet for our students, families, friends and alumni to come together and support The University of Toledo," said Serenity Chalmers, pre-physical therapy major and head student director for Homecoming 2021. "It is pretty exciting, especially since due to COVID restrictions the past year we didn't have many in-person events. But now we are finally able to."
The main event — the Toledo Rockets' sixth football game of the season against the Northern Illinois Huskies — kicks off at noon Oct. 9 in the Glass Bowl. During the week leading up to the game, there will be a bonfire, Eat the Streets with food trucks on campus, a student talent show and the Edward C. and Helen G. Schmakel Homecoming Parade, among other activities.
UToledo also will celebrate the investiture of Dr. Gregory Postel as UToledo's 18th president on Friday, Oct. 8, in Nitschke Auditorium.
"We're excited to welcome our alumni back to campus for one of our favorite times of the year to celebrate our shared past, our exciting present and our ambitious goals for the future," Postel said. "I am glad we are in a position to return safely to some of our favorite traditions like Homecoming to celebrate our shared Rocket pride."
Get your calendars ready to capture this year's star events:
Monday, Oct. 4
•  Health Science Campus Kickoff, 11 a.m., patio outside Four Seasons Bistro. Join us for a relaxing lunch and music by Chloe & the Steel Strings.
•  Farmers Market, 11 a.m., Centennial Mall. The Office of Student Involvement and Leadership will host farmers markets for students to learn about local businesses and to pick up fresh produce, flowers, crafts and more.
•  Bonfire in the Flatlands, 7 p.m., Flatlands near tennis courts. S'mores and hot chocolate will be available with music around the bonfire.
Tuesday, Oct. 5
•  Eat the Streets, 11 a.m., Centennial Mall. The center of campus will be packed with food trucks, a DJ, a Pep Rally and more.
•  National Pan-Hellenic Council Talent Show, 7 p.m., Thompson Student Union Auditorium. Students across campus will have the opportunity to showcase their talents in front of friends and family.
Wednesday, Oct. 6
•  Movie Night, 7 p.m., Centennial Mall. Movie: "The Great Gatsby." Free drinks and food will be provided.
Thursday, Oct. 7
•  Lip Sync Battle, 7 p.m., Ingman Room. The Top 5 Homecoming King and Queen nominees will go head-to-head in a Lip Sync Battle.
Friday, Oct. 8
•  Investiture of Dr. Gregory Postel, 10 a.m., Nitschke Auditorium. This traditional academic ceremony commemorates the beginning of a new president's tenure.
•  Homecoming Gala, 5:30 p.m., Thompson Student Union Auditorium. The Alumni Association will present this year's Gold T, Blue T and Edward H. Schmidt Young Alum Awards. Distinguished alumni from each college also will be recognized. Tickets are $35 per person, $14.99 for children. For more information or to make a reservation, contact the UToledo Office of Alumni Engagement at 419.530.ALUM (2586) or visit the Association's website.
Saturday, Oct 9
•  Edward C. and Helen G. Schmakel Homecoming Parade, 8 a.m. The parade is sponsored by Blue Key National Honor Society. The route will begin at West Bancroft Street and Campus Road and go east to Cheltenham Road to Christie Street to Middlesex Drive and back to West Bancroft Street.
•  Pregame Party, 9 a.m. to noon, William and Carol Koester Alumni Pavilion. Stop by for free hot dogs, chips and non-alcoholic beverages. There will be a cash bar for those 21 and older with proper ID.
•  UToledo Rockets vs. Northern Illinois University Huskies football game, noon, Glass Bowl. Attendance is free for students. Faculty, alumni and other fans can purchase tickets online. Homecoming Parade float winners will be announced in the third quarter. The halftime performance will feature the Rocket Marching Band.
For more information, visit the UToledo Homecoming website.