UToledo Celebrating Muslim Heritage Month With Events Scheduled Through October
---
In celebration and recognition of Muslim Heritage Month, which runs through October, the Office of Multicultural Student Success and the Muslim Students Association have scheduled several events throughout the month beginning with "Ask A Muslim" on Monday, Oct. 11.
Scheduled at 5 p.m. in Thompson Student Union Room 2582, "Ask A Muslim" will give UToledo students the platform to share their stories and to answer any question and address common misconceptions about Islam.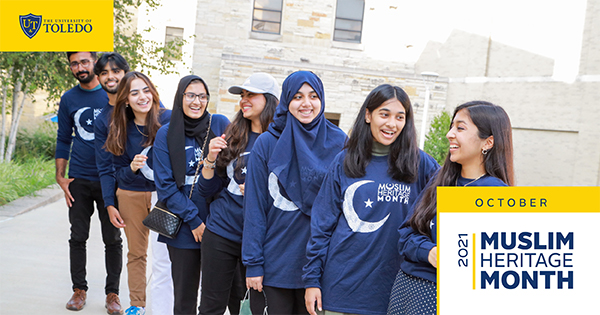 Other campus events and activities for Muslim Heritage Month include:
•  Friday, Oct. 22, at 5 p.m. in Thompson Student Union Room 2582— Social Justice in the Muslim Community, featuring a speaker for the Muslim Students Association who will discuss the relevance of social justice and activism to Islam and how to make an impact.
•  Monday, Oct. 25, at 5 p.m. — Interfaith Panel discussion, in which religious leaders from a multitude of faiths will discuss the commonalities and differences between their beliefs and practices in a dialogue that will include a Q&A. Location to be announced.
•  Friday, Oct. 29, at 7 p.m. — "Bond"-Fire, with a roaring fire as the backdrop, this three-hour event will include games, music, pizza and s'mores, in the Flats.
For updates to events and locations, visit the celebration's Invonet site.
"October is a time for us to celebrate Muslim heritage, leadership and our community," said Aylia Naqvi, president of the Muslim Students Association. "I am incredibly proud of our team for putting these events together this month and making it accessible to all of our students. After a year of connecting with students solely from home, our events for 2021 will allow our students to meet with one another in person and virtually."
The Office of Multicultural Student Success also has a list of national Muslim Heritage Month resources online as well as a site devoted to the campus celebrations of Muslim Heritage Month and all History and Heritage Months.