Poetry reading to raise funds for UT's first LGBT scholarship
---
The power and artistry of words will take center stage at the Rane Arroyo Poetry Read-In, which will be held Tuesday, Oct. 10, at 6 p.m. in Carlson Library Room 1005.
The event is named in honor of a virtuoso.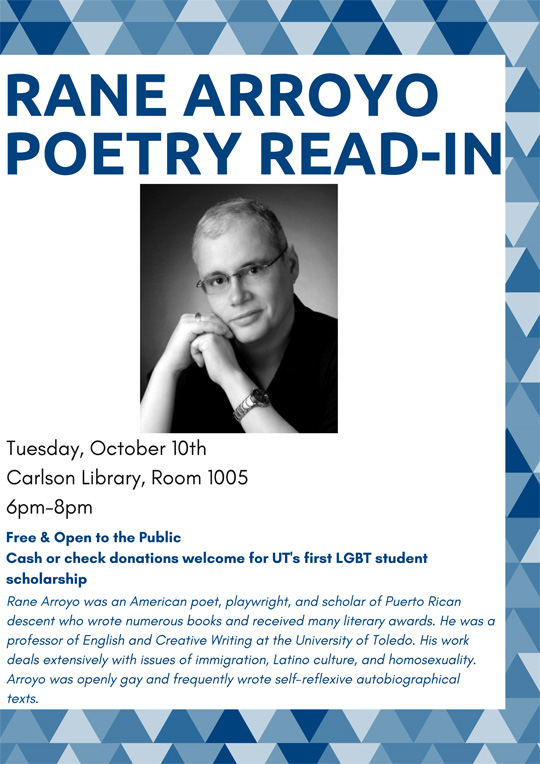 "Rane wrote openly as an out, proud gay Puerto Rican male," Dr. Glenn Sheldon, UT honors professor of humanities, said. "I want the audience to listen to the music of Rane's words, to let intuitions of the poet lead us to our own personal discoveries, to just listen to a poem be — to enjoy!"
Dr. Arroyo was a Distinguished University Professor of English who taught creative writing and literature at UT from 1997 until his death in 2010. The author of 10 poetry books, six chapbooks of poetry, a collection of short stories, and a collection of plays, Arroyo won an array of writing awards, including the John Ciardi Poetry Prize, the Carl Sandburg Poetry Prize and a Pushcart Prize.
"Rane loved both writing poetry, plays and fiction as much as he loved teaching creative writers. Teaching creative writing always enthused him. He saw potential in each and every student he came across," said Sheldon, chair of the LGBTQA+ Advisory Board. "From what I sensed after his death, so very many students found his classes life-altering."
Reading poetry at the event will be Dr. Sharon L. Barnes, associate professor and chair of the Women's and Gender Studies Department; Leslie Ann B. Chambers, adjunct faculty member in the Jesup Scott Honors College; Sariah Flores-Shutts, resource specialist in the Center for Engagement; Wade Lee, electronic information services librarian, science research librarian and associate professor in University Libraries; Dr. Edmund Lingan, associate professor and chair of the Theatre and Film Department; and Dr. Skaidrite Stelzer, assistant professor of English. Also reading will be Toledo resident Bernie Filipski and Shannon Smith, associate professor of English at Owens Community College.
Cash, checks and credit card donations will be accepted at the free, public poetry read-in. Funds raised will go toward establishing UT's first LGBT scholarship.
It was Barnes who approached Sheldon about creating a scholarship to honor Arroyo and former UT student Troy Anaya Jr., who died in 2016 at age 31.
"After Troy's funeral, I spent some time with a few students who were active in Spectrum [now called Prism] and dear friends with him," Barnes said. "We were talking about how much we loved Troy and how we really wanted to do something special to remember his presence in our lives and to celebrate him. We were also reflecting on how impactful the lack of financial resources was in his life, and so it wasn't a big leap to think about creating a scholarship in his name."
The Anaya/Arroyo Scholarship will be for one or more LGBT-identified undergraduates. The goal is to award the first scholarship in 2018, according to Sheldon.
"When I put those two last names together in my head, the poet's ear in me rejoiced! Two beautiful Latino names with all those remarkably similar vowel sounds and the enthusiasm of the letter 'y,' which rarely gets its due in English," Sheldon said. "Although Troy and Rane never knew each other personally, Troy's mother, Diane Ballesteros-Houston, believes they would have gotten along famously. From what I have learned about Troy, I am certain she is spot on."
"Troy was an incredibly genuine person, open, welcoming, friendly and supportive. He had a way of making people feel accepted because he genuinely accepted them. He also had a great sense of humor and love of life. He was just really fun to be around," Barnes said.
"As gay Latinos from working class backgrounds, both Rane and Troy faced multiple oppressions, including financial hardship, racism and homophobia," she said. "We honor their talent, intelligence and shining personalities by creating a path to higher education for someone similarly situated in the matrix of cultural privilege and oppression. They were both proud activists. I am certain that being remembered in this way would make them both proud."
After the read-in, donations can be made to the Anaya/Arroyo Scholarship through the UT Foundation at give2ut.utoledo.edu.
"We hope this event will help us to begin to amass a small fortune to help LGBT students here at the University for many years to come," Sheldon said.
The read-in is one of several events taking place at UT in honor of National LGBTQ History Month. Read more here.
For more information about the read-in or the scholarship, contact Sheldon at glenn.sheldon@utoledo.edu or 419.530.3261.