Fundraising walk Oct. 12 to help hungry; UT Food Pantry to open
---
A walk raising awareness and fighting hunger will take place Sunday, Oct. 12, at The University of Toledo.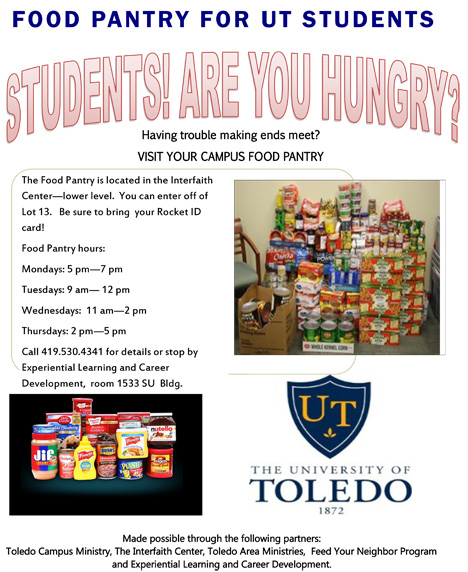 The CROP (Communities Responding to Overcome Poverty) Hunger Walk will begin and end in front of the Toledo Campus Ministries building in lot 13 on Main Campus. Registration will begin at 2 p.m., and the walk will start at 2:30 p.m.
Before the walk, the UT Food Pantry, which will serve UT students in need, will celebrate its grand opening with a ribbon-cutting ceremony presented by Sabina Serratos, director of experiential learning and career development; Dr. Sammy Spann, assistant provost for student engagement; the Rev. David Montgomery, executive director of Toledo Campus Ministry; and Donnajean Stockmaster, community connections director of Feed Your Neighbor.
CROP participants are asked to bring a college-friendly canned good as a donation to help kick-start the pantry.
Following the ceremony, face-painting, corn hole, music by local bands, popcorn and lemon ice stands will be available in lot 13.
The pantry will be open four days a week: Monday from 5 to 7 p.m., Tuesday from 9 a.m. to noon, Wednesday from 11 a.m. to 2 p.m., and Thursday from 2 to 5 p.m. It is sponsored by Toledo Campus Ministry, the Interfaith Center, Toledo Area Ministries, Feed Your Neighbor Program, and Experiential Learning and Career Services.
Walk pledge packets can be picked up at the following locations: Toledo Campus Ministry located at 2086 Brookdale Road, Toledo; Toledo Area Ministries located at 2043 Monroe St., Toledo; Sylvania United Church of Christ located at 7240 Erie St., Sylvania; and in Student Union Room 1533.
For more information, contact Serratos at 419.530.2992 or sabina.serratos@utoledo.edu.