'Originalism and Original Sins' Topic of Oct. 17 Stranahan Lecture
---
Professor Stephen E. Sachs will discuss how we should understand the Founders' historical legacy and how the Constitution they wrote might remain binding today — in law and in conscience — as part of The University of Toledo College of Law's Stranahan Lecture series.
An Antonin Scalia Professor of Law at Harvard Law School, where he teaches civil procedure, conflict of laws and seminars on constitutional law, Sachs will lecture on "Originalism and Original Sins: Reevaluating the Founding" on Monday, Oct. 17, at noon in the McQuade Law Auditorium at the Law Center.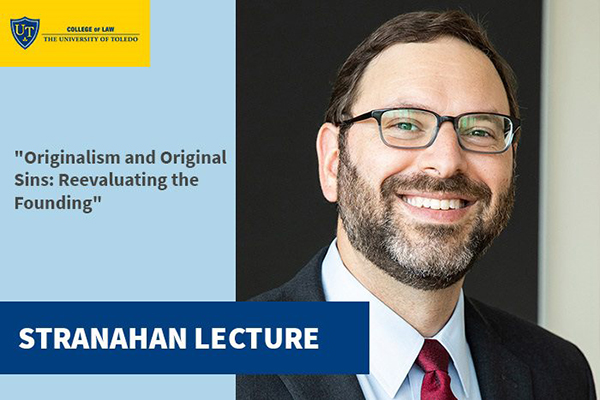 Sachs' research focuses on the law and theory of constitutional interpretation, the jurisdiction of state and federal courts, the history of procedure and private law and the role of the general common law in the U.S. legal system. He is an elected member of the American Law Institute (ALI), an adviser to the ALI's project on the "Restatement of the Law (Third), Conflict of Laws," and a founding member of the Academic Freedom Alliance.
He previously taught at Duke University School of Law and was a visiting professor at the University of Chicago Law School. Before entering academia, he practiced in the Washington, D.C., litigation group of Mayer Brown LLP, and he clerked for Chief Justice John G. Roberts Jr., as well as for Judge Stephen F. Williams of the U.S. Court of Appeals for the D.C. Circuit.
This free, public lecture is part of the Stranahan National Issues Forum and is sponsored by the College of Law and its chapter of the Federalist Society for Law and Public Policy Studies.
For more information, visit the event's webpage.