Varsity 'T' Hall of Fame to induct 2018 class
---
The University of Toledo Varsity 'T' Hall of Fame will induct nine former student-athletes Friday, Oct. 19, at the Hilton Garden Inn in Perrysburg.
Social hour for the event will begin at 6 p.m., and dinner will follow at 7 p.m. The class also will be introduced at halftime of the UT football game vs. Buffalo Saturday, Oct. 20.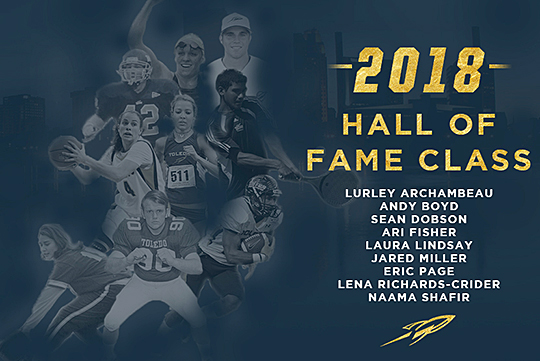 Tickets for the Varsity 'T' Hall of Fame induction dinner are $45 or $360 for a table of eight and can be purchased by calling the Athletic Development Office at 419.530.5087.
The 2018 Varsity 'T' Hall of Fame inductees are:
Lurley Archambeau, football, 1963 to 1965. He was a three-year starter, playing in the first three years of legendary Rocket Coach Frank Lauterbur's tenure. In his sophomore and junior seasons, Archambeau started on both the offensive and defensive lines, one of the last two-way players in UT history. He also played on all special teams, meaning he did not come off the field during games. As a senior, Archambeau was the starting center on a team that went 5-5. After graduation, Archambeau was drafted in the 17th round by the Atlanta Falcons, but an injury ended his football career. After graduation, he attended medical school and became the first president of the first class of the former Medical College of Ohio. He has been in private psychiatry practice in Toledo for the past 43 years and has served his alma mater as a counselor for Rocket student-athletes for four decades.
Andy Boyd, football, 1998 to 2001. He was a walk-on who became a four-year starter at safety. During his collegiate career, Boyd always seemed to make the big play in the biggest games. Boyd totaled 314 tackles and 10 interceptions. He made the Mid-American Conference Academic Honor Roll in 1999, 2000 and 2001. During his junior year in 2000, he also was named All-MAC by the Sporting News. Boyd also was named UT's Most Outstanding Defensive back in 1999, 2000 and 2001. During Boyd's time at UT, the Rockets had a 33-13 record (22-8 MAC) and won MAC West Division titles in 1998, 2000 and 2001. In Boyd's senior year, the Rockets won the MAC Championship and 2001 Motor City Bowl. He had 76 tackles and three interceptions as a redshirt freshman in 1998, making the Football News' First-Team Freshman All-American squad and Football News' All-MAC First-Team. He also received the Norman Cohen award for UT's Most Outstanding Freshman football player in 1998. His biggest play came in the fourth quarter with an interception against Central Michigan that set up the game-winning field goal to help Toledo take the MAC West Division title. Boyd had 61 tackles and three interceptions as a sophomore, and 95 tackles and three picks as a junior in 2000. That 2000 team went 10-1 and was one of the strongest defensive teams ever at UT, racking up three shutouts and holding opponents to 14 points or fewer in seven games. Boyd made the game-saving tackle on the final play in a 31-26 defeat of Tony Romo and Eastern Illinois that season. In 2001, Boyd was named a team captain. He had 82 tackles and one interception. He broke up the potential game-winning pass in the end zone on fourth down to clinch Toledo's 23-16 victory over Cincinnati in the 2001 Motor City Bowl. After graduation, Boyd served the Rockets as a volunteer coach (2002), a graduate assistant coach (2003 to 2004), and assistant coach (2005 to 2009) and director of high school relations (2010). While on the coaching staff, Boyd recruited First-Team All-MAC players Barry Church, Archie Donald, Jermaine Robinson and Eric Page. Church and Page would go on to become All-Americans. Boyd went into private business in 2010 and returned to the program as color commentator on Rocket football broadcasts from 2011 to 2015.

Sean Dobson, baseball, 2001 to 2004. He made First-Team All-MAC, First-Team All-Region and was named an All-American by College Baseball Insider.com in 2004. He hit .394 that season and set UT records for total bases (152), RBIs (63) and doubles (23), while also scoring 60 runs. He led the team in hitting in 2002 with a .387 average, knocking in 34 runs and scoring 33. In 2003, he hit .367 and led the team with 60 runs scored. Dobson finished his career as UT's leader in runs, hits and doubles. He ranks second in batting average (.371), third in runs (159) and hits (249), fourth in total bases (356), tied for fourth in doubles (46), and seventh in RBI (131). An outfielder, Dobson was drafted by the St. Louis Cardinals in the 40th round of the 2004 Major League Baseball draft.
Ari Fisher, women's track and field/cross country, 2008 to 2012. Fisher made All-MAC six times in her career as a distance runner, three times in cross country and three times in track and field. She is one of only five runners in MAC history to win back-to-back cross country titles, achieving that feat in 2009 and 2010. She qualified for the NCAA Cross Country Championship Meet three times in her career, earning All-America honors in 2010. Fisher won the individual title as a sophomore in 2009, pacing UT to a second-place finish. She then took ninth place at the NCAA Regionals and qualified for her first NCAA Championship Meet. A year later, she won the MAC title again, leading the Rockets to a MAC title. She was third at the NCAA Regionals and 26th at the NCAA Championship Meet. In 2011, Fisher came in third place at the MAC Championships as UT again won the team title. She was 17th at the NCAA Regionals and 76th at the NCAA Championship Meet, helping UT to its highest national finish ever (21st place). Injuries hampered her track career, but she was named the league's Outstanding Distance Runner at the 2010 Indoor Championship when she won the 5K by more than 26 seconds. In 2011, she set the MAC record in the 5K at the Iowa State meet. Her time of 16:04.56 was one of the top 10 fastest times in the world that year. She was one of the favorites to win the 5K at the NCAA Indoor Championships that year, but an injury forced her to withdraw from the race. In 2012, she won the 10K at the MAC Outdoor Championships.
Laura Lindsay, women's swimming and diving, 2008 to 2011. She was a two-time All-American and three-time All-MAC swimmer who helped lead Toledo to MAC Championships in 2010 and 2012. She earned All-America honors in the breaststroke in 2011 and 2012, the only Rocket woman swimmer to make All-America twice in her career. In 2012, Lindsay swam the fifth fastest time at the NCAA Championships in the 100-yard breaststroke, swimming in the B final and winning the event. She also swam the 200-yard breaststroke at the NCAA Championships twice, making her a four-time NCAA qualifier. Lindsay set three MAC records in the breaststroke and still holds two all-time UT individual records, as well as the MAC record in the 200 breast (2:09.72). Over her career, Lindsay won six MAC titles, one each in the 100 and 200 breaststroke, and four in medley relays. As a sophomore, Lindsay was part of the MAC Championship 200- and 400-medley relay teams, earning second-team all-conference. A year later, Lindsay finished in second place in both the 100- and 200-breaststroke, taking home First-Team All-MAC honors. As a senior, she won both of those races at the MAC Championships, as well as participating in the 200- and 400-medley relay teams that won league titles. Lindsay, who was named Toledo's team MVP in 2011 and 2012, was a USA Olympic top 10 qualifier in the 100- and 200-breaststroke in 2012, and top 25 qualifier in 2016.
Jared Miller, men's tennis, 2005 to 2009. He was a four-time All-MAC tennis player and three-time team captain during his collegiate career. His overall record was 128-108, including a 42-28 mark at No.1 singles and No. 1 doubles as a senior. He earned a spot on the All-MAC Tournament Team in 2008 and 2009. In his senior year, Miller helped lead the Rockets to the MAC Tournament title match, their best finish in 36 years, and was ranked No. 8 in doubles in the Midwest Region. Miller was a three-time Academic All-MAC choice and was twice named MAC Male Scholar-Athlete of the Week. In 2009, he earned the MAC Men's Tennis Senior Sportsmanship Award and the Intercollegiate Tennis Association Division I Men's Midwest Arthur Ashe Sportsmanship Award. Miller nabbed numerous team awards, including Newcomer of the Year (2005-06); Most Improved Player (2005-06 and 2006-07); Team Leadership Award (2006-07, 2007-08, 2008-09) and Most Valuable Player (all four years). In 2009, Miller was voted UT's Most Valuable Male Senior by the UT Student-Athlete Advisory Committee. In 2009, he was honored for having the highest GPA among all UT male student-athletes. Miller graduated with a bachelor's degree in chemistry with concentration in biochemistry. He went to medical school and works in general pediatrics and primary care sports medicine with St. Vincent Medical Group in Kokomo, Ind.
Eric Page, football, 2009 to 2011. Page's 306 receptions are the most in Toledo history and the 12th most in NCAA history. He also leads Toledo with 3,446 receiving yards. He holds the single-season mark for catches, snagging 125 passes as a junior in 2011, and ranks first all-time in career kickoff return average (27.3). Page was a three-time All-MAC selection who earned first-team All-America honors as a kickoff returner in 2010, a year in which he averaged 31.1 yards per return and scored three TDs. In 2009, Page led the nation's freshmen with 82 receptions and 1,159 receiving yards. He earned second-team All-MAC honors and was named a Freshman All-American by Phil Steele and College Football News. As a sophomore, Page caught 99 passes and was named First-Team All-MAC as both a receiver and kickoff returner. He was selected by Walter Camp and the Sporting News as a First-Team All-American at kickoff returner, the first Rocket to make first-team on a major All-America team since Gene Swick in 1975. He also was named MAC Special Teams Player of the Year and the National Kickoff Returner of the Year by College Football Performance Awards. In his junior season, Page became only the third person in NCAA Football Bowl Subdivision history to make First-Team All-League at three positions: wide receiver, kickoff returner and punt returner. He shattered the UT reception mark by catching 125 passes and was one of four national finalists for the Paul Hornung Award, given annually to the nation's most versatile player. He set the UT record and tied Randy Moss' MAC record when he caught five TD passes in one game vs. Northern Illinois in 2011. At the end of his college career, he was tied for the most career receptions by any player in MAC history.
Lena Richards-Crider, softball, 1995 to 1996. She is a two-time First-Team All-MAC selection. As a junior in 1995, she led the Rockets in nine categories: slugging percentage (.439), runs (40), hits, (69), at-bats (212 — which ties for fifth place in MAC history), doubles (13), sacrifices (18), total bases (93), stolen bases (12) and home runs (3). These impressive season stats helped her earn a spot on the First-Team All-MAC and First-Team All-Mideast Region lists. She was the MAC's Hitter of the Week and was nominated for National Hitter of the Week after batting .600 (12 for 20) with seven RBI, four runs scored, three sacrifices, two doubles, and a grand slam over six games against No. 6 Michigan and Eastern Michigan (1995). She also pitched an 8-0 shutout over Eastern Michigan during that same stretch. In 1996, Richards-Crider made First-Team All-MAC again. She was named MAC Co-Hitter of the Week April 15 after hitting .692 (9 for 13) with two runs, one double, and a pair of stolen bases. Richards-Crider is vice president of development and marketing for A Kid Again, a nonprofit organization in Columbus, Ohio, that works to foster hope, happiness and healing for families raising children with life-threatening illnesses.
Naama Shafir, women's basketball, 2008 to 2013. She was a four-time All-MAC selection and is one of only two players (Kim Knuth) in program history to earn all-conference accolades on four occasions. Shafir wrapped up her collegiate career ranked first in UT annals in assists (722, third most in MAC history), minutes played (4,218), games played (139) and games started (139). She also ranked second in free-throw attempts (696), third in steals (227) and made free throws (538), fourth in field-goal attempts (1,476), and fifth in points (1,874). Additionally, Shafir was sixth in field goals made (601), seventh in free-throw percentage (.773), and tied for ninth in scoring average (13.5 points per game). As a freshman, Shafir averaged 11.7 points and 4.5 assists, earning honorable mention All-MAC honors. A year later, she earned second-team all-league honors, averaging 14.3 points and 6.7 assists, leading UT to the MAC Championship title game for the first time since 2001. As a junior in the 2010-11 season, Shafir averaged 15.3 points and 5.1 assists, earning First-Team All-MAC honors. The Rockets finished in first place in the MAC that year and went on to win the WNIT Championship. She was named MVP of the tournament, scoring 40 points against USC in the championship game, a 76-68 Rocket victory before a record crowd in Savage Arena. Shafir played in only four games in 2011-12 due to a knee injury, but came back in 2012-13 to lead UT to a 29-4 record (15-1 MAC). She once again earned First-Team All-MAC honors, averaging 12.8 points and 4.6 assists. She was runner-up for MAC Player of the Year and a regional finalist for the Women's Basketball Coaches Association's All-America Team. An excellent student, Shafir earned Academic All-MAC honors three times. She was part of the winningest class in school history, helping UT post a 107-31 overall ledger and a 54-10 MAC mark, with two MAC regular-season titles (2010-11, 2012-13), and four-consecutive MAC West-Division crowns, as well as advancing to the postseason each year. After graduation, Shafir returned to her native Israel, where she has played professional basketball for Elitzur Ramla, Maccabi Ramat Hen and Maccabi Bnot Ashdod.