UT to designate honorary seat in Glass Bowl for POW/MIAs at Navy game
---
The University of Toledo will designate a permanently unoccupied seat in the Glass Bowl in honor of military service personnel who were or are prisoners of war (POW) or have been declared missing in action (MIA).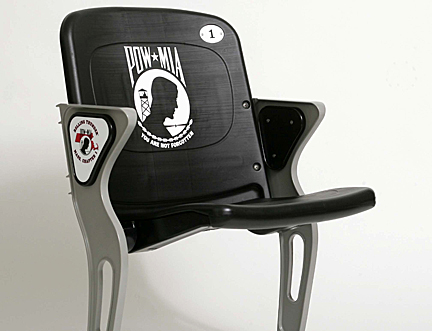 A dedication ceremony will take place Saturday, Oct. 19, prior to Navy football game.
Kickoff for the game is noon with the ceremony slated to begin at approximately 11:45 a.m. The game will be carried by ESPNews.
Participating in the ceremony will be UT President Lloyd Jacobs, a former Marine; U.S. Naval Academy Superintendent Vice Admiral Michael H. Miller; UT Vice President and Athletic Director Mike O'Brien; and U.S. Navy Reserve Lt. Haraz Ghanbari, UT military liaison.
"We are honored to be able to recognize the sacrifices made by the brave men and women in our armed forces," O'Brien said. "This seat in the Glass Bowl will serve as a permanent reminder of the sacrifices made by those individuals who were prisoners of war or who never came home after serving their country."
The concept for a permanently unoccupied POW/MIA seat in sports stadiums originated from Rolling Thunder Massachusetts Chapter 1, a POW/MIA advocacy group. The seat itself was donated by Hussey Seating in Maine and will be located in Section 1 of the Glass Bowl. UT is believed to be the first university in the country to designate a POW/MIA seat at one of its sports venues.
As part of the ceremony, a flyover is scheduled take place just after the national anthem. The flyover will feature a World War II vintage Grumman Avenger, the same model plane flown by former President George H.W. Bush when he was shot down in the Pacific in 1944.
In addition, during a timeout in the Navy game, the University will honor Cmdr. Mike Majewski, a UT graduate who is scheduled to take command of the USS Toledo, a nuclear submarine, later this year.