UT to host statewide women's conference; RSVP by Oct. 26
---
The American Council on Education Women's Network Ohio will hold its 20th annual conference at The University of Toledo Friday, Nov. 2, in the Thompson Student Union.
UT President Sharon L. Gaber will moderate a presidential panel at 8:45 a.m. with Lorain County Community College President Marcia Ballinger, Capital University President Elizabeth Paul, Union Institute and University President Karen Schuster Webb, and Kent State University President Beverly Warren.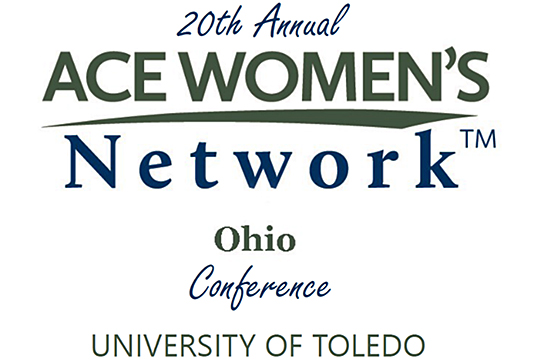 "It is an honor for The University of Toledo to host this conference, and I look forward to talking about women in higher education leadership roles with presidents from institutions in Ohio," Gaber said.
"We are excited to have the American Council on Education Women's Network Ohio annual conference come here for the first time to The University of Toledo and to northwest Ohio," said Dr. Shanda Gore, executive director of the UT Minority Business Development Center, who is co-chair of the American Council on Education Women's Network Ohio and chair of the annual conference. "This year marks the 20th anniversary of the conference, and we appreciate the support of President Gaber."
Sessions during the daylong event will cover several topics, including developing a career and personal plan to reach the executive level; building feminist futures on and beyond campus; creating transformative space for Latinas in higher education; and cultivating networks of leaders in science, technology, engineering and mathematics.
"This year's theme is 'Lifting as We Climb,' and it is a testament to what we need to do as women to help one another be successful professionally," said Gore, who is the principal investigator for the Ohio Minority Business Assistance Center Toledo and the Global Minority Business Virtual Development Center.
Prior to the conference, a Northwest Ohio Presidential Panel titled "Engaged Women Leaders: How Colleges and Universities Are Impacting Communities in Northwest Ohio" will be held Thursday, Nov. 1, at 4 p.m. in the Driscoll Alumni Center Auditorium.
The panel will feature Gaber, Defiance College President Richanne C. Mankey, University of Findlay President Katherine Fell, Tiffin University President Lillian Schumacher, Lourdes University President Mary Ann Gawelek and Bluffton University President Jane Wood. The presidents will discuss how higher education institutions play a vital role in their communities.
RSVPs are requested by Friday, Oct. 26; go to utoledo.edu/offices/president/email/ace/ace.html.
Tickets — $125 and $50 for graduate students — are available at
aceohiowomen.org/conference_signup.php. About 30 tickets remain.
For more information and a detailed schedule, click here.