Women to 'Step Up to Step Out' at annual leadership conference
---
More than 600 women will participate in the 2017 Women in Leadership conference co-sponsored by The University of Toledo and Bowling Green State University to learn strategies for professional advancement.
The sold-out conference titled "Step Up to Step Out: Strategies for Distinguishing Yourself to Advancement" will take place Friday, Oct. 20, from 9 a.m. to 2:30 p.m. at the Hilton Garden Inn at Levis Commons in Perrysburg.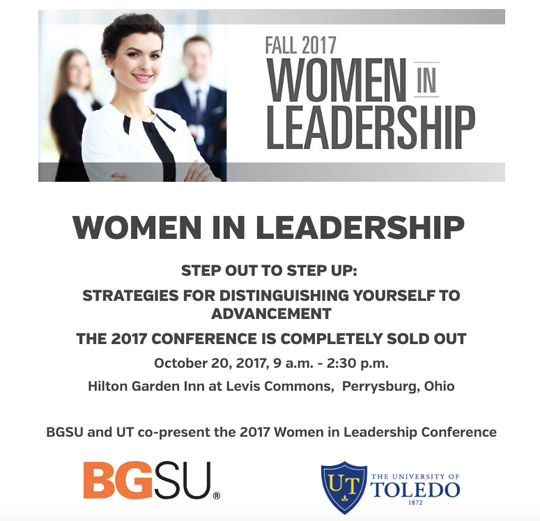 UT President Sharon L. Gaber and BGSU President Mary Ellen Mazey will participate in the conference that will feature talks from several business leaders, including:
• Abha Bhandair, director of equity administration and benefits accounting for Brown & Brown Insurance;
• Kelly Hyne, senior vice president of strategic partnerships for the Ladies Professional Golf Association;
• Whitney Johnson, author of "Disrupt Yourself: Putting the Power of Disruptive Innovation to Work";
• Debby Peters, founder and instructor for Connext Nation, a word-of-mouth marketing training program;
• Aly Sterling, founder and president of Aly Sterling Philanthropy, a national consulting firm based in the Midwest; and
• Maryrose T. Sylvester, president and CEO of Current, powered by GE, which blends advanced energy technologies such as LED and solar with networked sensors and software.
The annual conference is organized by the BGSU College of Business and the UT College of Business and Innovation.
For more information, click here.