UT bow tie to be worn by Fox Sports reporter at World Series Oct. 27
---
The University of Toledo bow tie has won third place in the World Series Bow Tie Challenge and will be worn by sideline reporter Ken Rosenthal of Fox Sports during game three of the World Series in Detroit Saturday, Oct. 27.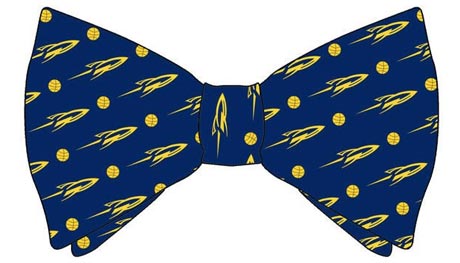 The bow tie is the same one used for UT's annual "Tie One On" event at the men's basketball games to benefit the Dana Cancer Center's efforts in the fight against prostate cancer.
UT partnered with BowTie Cause to create a signature bow tie for the "Tie One On" event. Coaches and fans in the stands wear bow ties to raise awareness for prostate cancer. The "Tie One On" event this year will be the Bowling Green game Jan. 26.
Rosenthal also has joined forces with BowTie Cause, which was started by NFL player Dhani Jones.
Organizations from across the country put their bow ties up for a vote in the World Series BowTie Challenge, all for a chance to have Rosenthal wear their tie during Major League Baseball's championship series.
Coming in first with the most votes was the Cystic Fibrosis Foundation, followed by the National Multiple Sclerosis Society in second place, and UT in third.
Click to access the login or register cheese