Department of Mathematics and Statistics celebrating 100 years
---
In celebration of 100 years dedicated to education and research at UT, the Department of Mathematics and Statistics will host several events, starting with a Matheatre double feature Wednesday, Nov. 1, in the Lois and Norman Nitschke Auditorium.
The first feature, "Curie Me Away," a musical about the science, life and legacy of Madame Marie Curie, the first scientist to win two Nobel prizes, will begin at 6:30 p.m.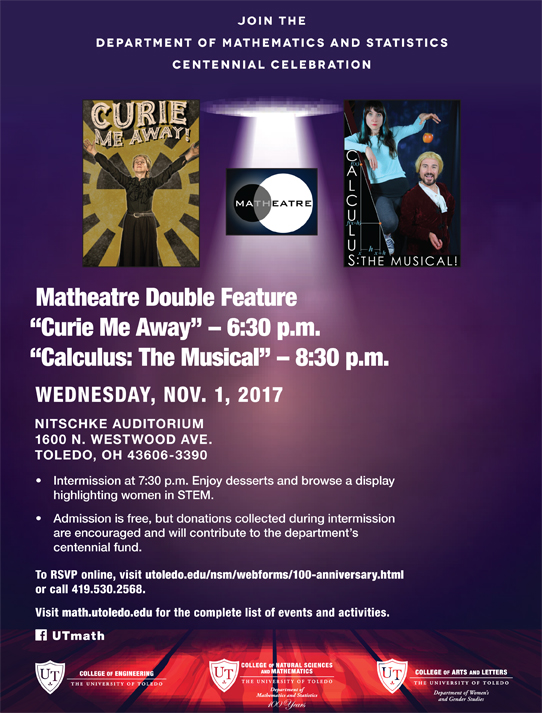 The second feature "Calculus: The Musical," a comic review of the concepts and history of calculus, will start at 8:30 p.m.
There also will be an intermission sponsored by the UT Department of Women's and Gender Studies on women in the science, technology, engineering and math fields.
Admission is free and is open to all, but registration is required. Go to math.utoledo.edu.
The department also will host a centennial celebration dinner for those affiliated with the Department of Mathematics and Statistics Thursday, Nov. 2. Doors will open at 5 p.m.
"This is a great opportunity to celebrate our rich history, to thank those involved with the department today, and to embrace a myriad of wonderful possibilities for our future," said Dr. Donald White, professor and chair of the Department of Mathematics and Statistics. "The scheduled events also include a strong element of connecting with the rest of the University community."
In addition, on Friday, Nov. 3, at 7:30 p.m., the UT Department of Theatre and Film will present the play, "Arcadia," which has mathematically oriented elements. There will be a discussion regarding mathematics and the production after the performance.
"Mathematics and statistics are foundational to understanding so much of what we do and who we are," White said. "Mathematical models that describe the universe and our role in it, along with statistical methods that enable us to properly study phenomena in science and social science, are vital to our effective functioning in the universe and to our responsibly handling each other and our planet.
"In addition to the importance of the fields, we celebrate because it gives us a chance to join together and relish the past, enjoy the present, and embrace a great future."
For more information or to register for the matheatre event, visit math.utoledo.edu.