Women's basketball team ready to hit the hardwood
---
The women's basketball team will play two contests against each of the five other Mid-American Conference West Division schools, as well as 2018 Postseason WNIT participant Miami (Jan. 9 on road, Feb. 20 at home) and archrival Bowling Green (Jan. 19 on road, Feb. 2 at home) from the East Division as part of its 18-game league schedule.
"Last season proved to be one of the best in MAC history, as our league was rated the eighth-toughest in the country by season's end," said Head Coach Tricia Cullop, a three-time MAC Coach of the Year honoree. "With two members advancing to the Sweet 16 of the NCAA Tournament and three others gaining berths to the Postseason WNIT, it was obvious just how strong our teams were. We had six league members finish in the Top 100 Ratings Percentage Index. This season should once again prove to be a great one."
Toledo also will tangle with the remaining East Division teams once, with Kent State (Jan. 12) and Ohio (Feb. 13) visiting the Glass City, and the Rockets traveling to Akron (Jan. 26) and 2018 NCAA Championship Sweet 16 participant Buffalo (Feb. 6).
"Our fans will be thrilled to see us face BGSU twice, and we will also play Miami home and away," said Cullop, who ranks ninth in MAC history in conference winning percentage (116-54, .682). "Toledo faithful will also recognize the new BG coach as a former Rocket assistant, Robyn (Flewelling) Fralick."
The Midnight Blue and Gold will commence league play against division rival Ball State (Jan. 5) at home. UT and BSU have squared off in the conference opener on six occasions with each team winning three matchups.
"We will open up MAC play against Ball State for the fourth time in my 11 years at UT," Cullop said. "I can't wait to see our amazing Toledo fans at that game. We're so grateful for their amazing support, as we ranked 31st in the country last year and tops in the MAC for the 28th straight year."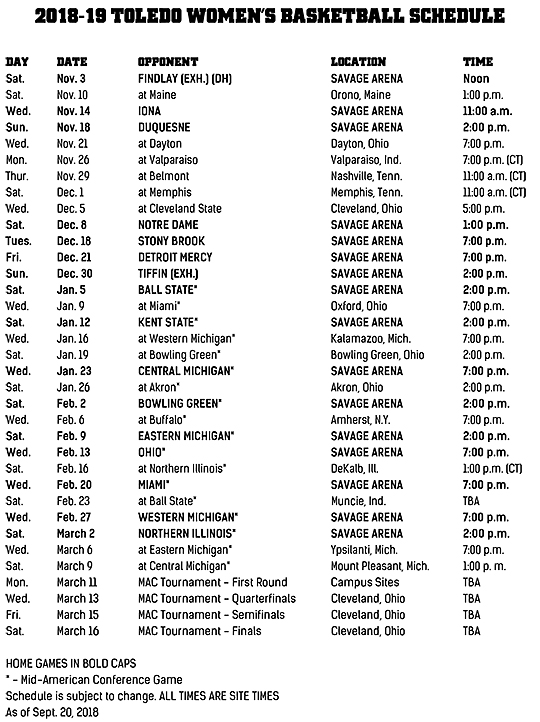 Toledo is slated to return nine letterwinners in 2018-19, including four starters, from last year's squad that posted an 18-15 overall record and an 8-10 ledger in the MAC.
The Rockets, who finished fourth in the MAC West Division standings, made their 11th overall appearance in the 2018 Postseason WNIT and sixth in 10 years under Cullop. UT defeated Horizon League member Wright State, 64-50, in the first round before falling at Big Ten foe Michigan State, 68-66, in the second round.
Two-time All-MAC honoree senior Mikaela Boyd (12.1 points per game, 8.0 rebounds per game, 4.2 assists per game), 2017-18 third-team All-MAC selection senior Kaayla McIntyre (16.0 points per game, 7.7 rebounds per game, 2.4 assists per game, 1.4 blocks per game) and 2016-17 All-MAC Freshman recipient junior Mariella Santucci (6.4 points per game, 2.5 rebounds per game, 4.1 assists per game, 1.6 steals per game) will be the focal points of UT's offense in 2018-19.
As far as numbers go, the Rockets welcome back 66.7 percent of their scoring, 69.3 percent of their rebounding, 76.0 percent of their assists, 78.2 percent of their blocks, and 83.5 percent of their steals.
Toledo will open its 2018-19 season at NCAA Championship participant Maine Saturday, Nov. 10. Less than one month later, UT entertains 2018 NCAA Champion Notre Dame Saturday, Dec. 8. Toledo will welcome the Fighting Irish to Savage Arena for the second time in the last three years.
For season tickets information, go to the Toledo Rockets website, call 419.530.GOLD (4653), or stop by the UT Athletic Ticket Office at Savage Arena.
Full-time UT employees and retirees may purchase up to two season tickets at half-price. Additional season tickets may be purchased at the full price. UT students are admitted free to home games with ID.