Men's Basketball Team Keyed Up for Season
---
Highlighting the Toledo men's basketball schedule is a November matchup at Notre Dame, the first meeting between the Rockets and the Fighting Irish since they faced off in a Sweet 16 battle in the 1979 NCAA Tournament.
"We're excited about our non-conference schedule," said Head Coach Tod Kowalczyk. "It's a schedule that will challenge us and help us prepare for our Mid-American Conference season."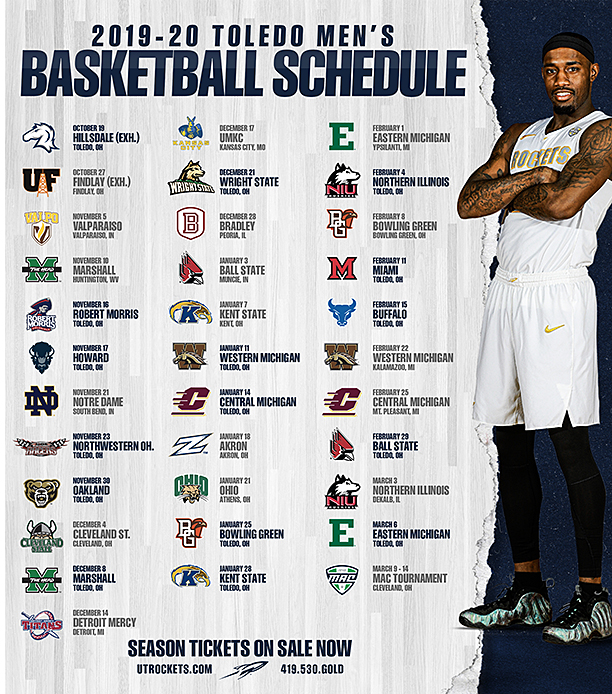 Toledo tips off its season at Valparaiso Nov. 5 before beginning play in the Men Against Breast Cancer Invitational. The Rockets open the event with a trip to Marshall Nov. 10 before hosting Robert Morris in their home opener Nov. 16 and Howard Nov. 17. Toledo wraps up the event by visiting Notre Dame Nov. 21.
"I think having the opportunity to play at Notre Dame is great for our fans because it's a short drive that gives them the chance to see us play a high-major school on the road," Kowalczyk said. "I have a lot of respect for Mike Brey and what their program stands for. We're looking forward to the challenge."
After hosting Northwestern Ohio Nov. 23, the Rockets will entertain Oakland Nov. 30 during the Thanksgiving weekend. Toledo will play four of six games in December on the road with its home contests coming vs. Marshall Dec. 8 and Wright State Dec. 21. The Rockets will play at Cleveland State Dec. 4, Detroit Mercy Dec. 14, University of Missouri-Kansas City Dec. 17 and Bradley Dec. 28.
"We have a few new opponents on our schedule, and I really like adding Valpo because of the proximity," Kowalczyk said. "It makes sense to play them because it's just a short bus trip. Bradley was an NCAA Tournament team last year, and I think it's a great home-and-home opportunity for us as well."
Toledo will open its MAC campaign with a nationally televised contest at Ball State Jan. 3. Following their trip to Muncie, Ind., the Rockets will visit Kent State Jan. 7 before playing their first conference game in Savage Arena vs. Western Michigan Jan. 11.
"I think it's going to be a season of transition in the MAC," Kowalczyk said. "Last year we had 17 of 20 all-conference players returning, and this season there are 16 of 20 all-conference players leaving. I feel really good about where our program is headed with the culture of winning we have established. It's certainly at a high level right now and something we're going to work hard to continue."
In addition to their five MAC West Division opponents, the Rockets will host four East Division foes — archrival Bowling Green (Jan. 25), Kent State (Jan. 28), Miami (Feb. 11) and defending league champion Buffalo (Feb. 15). The remainder of Toledo's conference home games will include matchups vs. Central Michigan (Jan. 14), Northern Illinois (Feb. 4), Ball State (Feb. 29) and Eastern Michigan (March 6).
Toledo's conference road schedule will be highlighted by a trip to the Stroh Center Feb. 8 for a second matchup vs. the Falcons. The Rockets also will visit MAC East Division foes Akron (Jan. 18) and Ohio (Jan. 21) in addition to traveling to Eastern Michigan (Feb. 1), Western Michigan (Feb. 22), Central Michigan (Feb. 25) and Northern Illinois (March 3).
Kowalczyk has guided the Rockets to four 20-win campaigns in the last six years, marking the first time for this accomplishment since Bob Nichols recorded five straight seasons of 20-plus victories from 1976 to 1981. Kowalczyk has led the Rockets to the second-most overall victories (129) in the MAC over the last six seasons. Toledo registered a 25-8 record with a 13-5 mark in league play last year, and its 68 MAC victories over the last six seasons rank second in the league.
The Rockets captured their second-consecutive MAC West Division title last season and earned a berth into the National Invitation Tournament with the second-most wins in program history. Toledo returns three starters from last year's squad — junior Marreon Jackson (11.7 points per game, 4.2 assists per game), senior Luke Knapke (10.5 points per game, 6.6 rebounds per game) and senior Willie Jackson (8.5 points per game, team-high 8.9 rebounds per game).
Full-time UToledo employees and retirees may purchase two tickets at half-price. UToledo students are admitted to home games free with ID.
Season and individual tickets are on sale: Visit the Rocket Athletic Ticket Office at the Sullivan Athletic Complex in Savage Arena, contact the Rocket Athletic Ticket Office at 419.530.GOLD (4653), or go to the Toledo Central Ticket Central website.