Women's Basketball Team Set to Court Success
---
The Toledo women's basketball program's schedule includes a game at 2019 NCAA Championship finalist Notre Dame. The Rockets will play against the perennial power Fighting Irish Nov. 20 in South Bend, Ind.
The Midnight Blue and Gold will tangle with 2018 NCAA Champion Notre Dame (35-4, 14-2 Atlantic Coast Conference) for the fourth time in the last five years. A season ago, the Rockets drew 6,059 fans for their home matchup against UND, the third largest crowd in school history.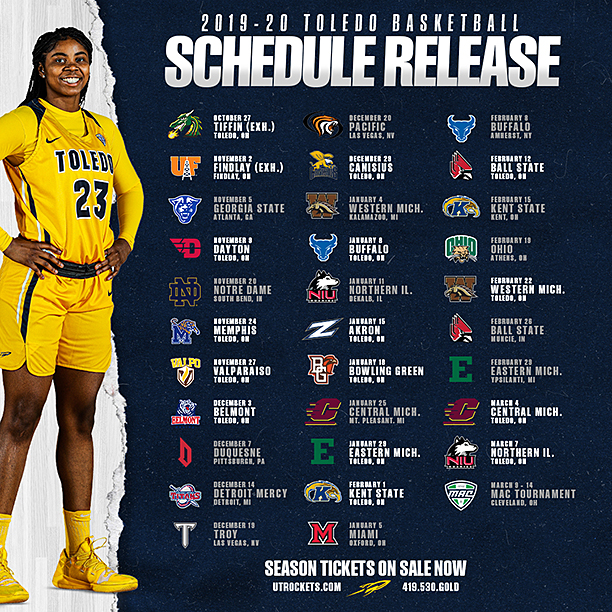 "To reach your potential as a team, you have to challenge yourself against the best," said Head Coach Tricia Cullop, who ranks sixth in league history in overall winning percentage (241-123, .662) and 10th in conference winning percentage (127-61, .676). "Playing Notre Dame has made us better. When you play a team of their caliber, you have to bring a sustained and focused effort."
Additional highlights for Toledo's non-league slate are five games against squads that competed in the 2019 postseason.
Toledo will square off against Big Dance participant Belmont (26-7, 16-2 Ohio Valley), Postseason WNIT foe Dayton (17-14, 10-6 Atlantic 10) and Postseason Women's Basketball Invitational squad Georgia State (17-14, 11-7 Sun Belt) prior to beginning league play. Two of the three aforementioned matchups will take place at the friendly confines of Savage Arena, as the Rockets host the Flyers Nov. 9 and the Bruins Dec. 3.
"Our goal every season is to play in the postseason," Cullop said. "These five games will give us a chance to improve before MAC play and earn an opportunity to play in postseason."
Toledo has been outstanding at home under Cullop, compiling a stout 137-40 (.774) ledger. The Rockets have won at least 11 home contests in nine of 11 seasons, including a school-record 19 victories during the 2010-11 campaign.
"We are so grateful for the amazing atmosphere our fans provide in Savage Arena," Cullop said. "We've been top 30 in the country in attendance seven out of the last eight years."
Toledo also will battle Postseason WNIT participants Troy (22-9, 13-5 Sun Belt) and Pacific (19-13, 10-8 West Coast) as part of the Las Vegas Holiday Hoops Classic Dec. 19-20 at the South Point Hotel & Casino. The Rockets, who will compete against both the Trojans and Tigers for the first time in program history, will venture to Sin City for the first time since the 1995-96 season.
"We're excited to travel to Las Vegas to play two strong mid-major programs in Troy and Pacific," said Cullop, whose team is averaging a MAC-best 21.9 wins over the last 11 seasons. "In addition to playing competitive teams, it's a great chance to show our players a part of the country that many of them have only seen in pictures."
The Rockets' season will officially tip off at Georgia State Nov. 5. Toledo will tangle with Dayton in its home opener, followed by a matchup at Notre Dame 11 days later.
A three-game homestand will begin against Memphis Nov. 24, Valparaiso Nov. 27 and Belmont Dec. 3. Toledo defeated all three opponents a season ago on the road, claiming a 58-48 victory against the Tigers, a 65-59 triumph vs. the Crusaders and a 78-69 win against the Bruins.
Toledo then will embark on a four-game road swing with the first stop at Duquesne (19-13, 11-5 Atlantic 10) Dec. 7. A season ago, the Rockets registered an impressive 65-52 home victory over the Dukes.
The women's team also will face Detroit Mercy Dec. 14. The Rockets will wrap up the non-league slate with a home contest against Canisius Dec. 29.
The Rockets will play two contests against each of the five other Mid-American Conference West Division schools as well as against 2019 MAC Champion Buffalo (24-10, 12-6 MAC) Jan. 8 at home and Feb. 8 on the road, and 2019 Postseason WNIT participant Kent State (20-13, 11-7 MAC) Feb. 1 at home and Feb. 15 on the road from the East Division as part of their 18-game league schedule.
Toledo also will compete against the remaining East Division teams once, with 2019 Women's Basketball Invitational participant Akron (16-15, 7-11 MAC) Jan. 15 and archrival Bowling Green (9-21, 2-16 MAC) Jan. 18 visiting the Glass City, and the Rockets traveling to 2019 Postseason WNIT participants Miami (23-9, 13-5 MAC) Feb. 5 and Ohio (30-6, 14-4 MAC) Feb. 19.
The Midnight Blue and Gold will commence league play at division rival Western Michigan (10-20, 4-13 MAC) Jan. 4.
The Rockets are slated to return nine letter winners in 2019-20; these include three starters from last year's squad that posted a 21-12 overall record and an 11-7 ledger in the MAC.
The Rockets, who finished second in the MAC West Division standings, made their 12th overall appearance in the 2019 Postseason WNIT and seventh under Cullop. Toledo defeated Big East member Seton Hall, 71-65, in the first round before falling at eventual tourney finalist and Big Ten foe Northwestern, 54-47, in the second round.
Senior Mariella Santucci (9.2 points per game, 3.8 rebounds per game, 5.1 assists per game), senior Sara Rokkanen (6.3 points per game, 2.8 rebounds per game, 1.8 assists per game), junior Nakiah Black (10.7 points per game, 3.4 rebounds per game, 2.2 assists per game) and junior Tanaya Beacham (3.9 points per game, 3.0 rebounds per game) will be the leading returnees for Toledo in 2019-20. Overall, Toledo welcomes back 54.0% of its scoring, 45.3% of its rebounding, 62.4% of its assists, 30.1% of its blocks, and 56.5% of its steals.
Full-time UToledo employees and retirees may purchase two tickets at half-price. UToledo students are admitted to home games free with ID.
Season and individual tickets are on sale: Visit the Rocket Athletic Ticket Office at the Sullivan Athletic Complex in Savage Arena, contact the Rocket Athletic Ticket Office at 419.530.GOLD (4653), or go to the Toledo Central Ticket Central website.