Alumni Office plans MAC Championship pregame party, bus trip
---
Make plans to join The University of Toledo Alumni Association for a bus trip to the Mid-American Conference Championship Game to cheer on the Rockets when they battle the University of Akron Saturday, Dec. 2.
Seven buses have been reserved to transport alumni, students and fans to the game and pregame party in the Comerica Gridiron Club at Ford Field. Transportation includes the cost of parking, driver tip, soft drinks and bottled water.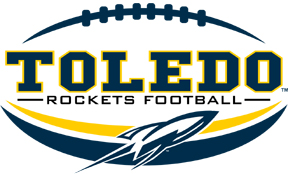 The menu for the pregame party is:
• Zingerman's Bake House breakfast pastries, including lemon clouds, scones and cinnamon rolls;
• Bagels with cream cheese;
• Fresh seasonal fruits;
• Roasted vegetable egg frittata with mushrooms, onions, cauliflower, spinach, seasonal squash and goat cheese with fresh herbs;
• French toast casserole with bananas Foster filling, cream cheese and pecan pieces served with warm maple syrup on the side;
• Griddled breakfast meats, including Detroit Sausage Co. breakfast links;
• Coffee, hot tea and fresh orange juice; and
• A cash bar will be available.
Buses will depart from Rocket Hall at 7:30 a.m. with the pregame party scheduled from 9:30 to 11:30 a.m., prior to the kickoff at noon. Buses are expected to return at approximately 6 p.m.
Because the Alumni Association is contractually bound for bus rental, facility rental and catering charges, There will be no refunds for cancellations.
Options available:
• Pregame party only — $35 per person for those who have their tickets and plan to travel to Detroit on their own.
• Complete package — $95 per person for game ticket, bus trip, and pregame party at Ford Field.
• Bus trip and pregame party only (no game ticket) — $75 per person for athletic donors/season ticket holders who wish to purchase their seats through the Athletic Department.
• Pregame party and game ticket only — $55 per person for those who plan to travel to Detroit on their own.
Bus space is available on a first-come, first-served basis. A total of 350 seats are available. The pregame meal is limited to the first 600 reservations, which includes the 350 bus seats. Game tickets will be $20 seats in Ford Field.
The deadline to make reservations for the bus trip is Thursday, Nov. 30, or until all seats are filled.
Complete, non-refundable payment must be received with your reservation. Pregame party reservations will be accepted until room capacity is reached.
Register here.
A special bus trip and ticket package for UT students will be available Monday, Nov. 27, at noon. A link to that website will be posted when it is available.
Tickets for the MAC Championship Game may be ordered online at utrockets.com or call the UT Athletic Ticket Office at 419.530.GOLD (4653).
Orders placed before 5 p.m. Tuesday will receive priority seating. Rocket Fund contributors and Rocket Football season ticket holders will receive priority-seating locations over the general public. Any orders placed after 5 p.m. Tuesday will receive best available seating.