Undergraduates to showcase research, creative projects
---
Does the caffeine in eye cream affect skin's appearance? Does boxing help with speech for those living with Parkinson's disease? How are feminist theories explored in "The Handmaid's Tale"? These are a few of the questions UT students are tackling for the annual Scholars Celebration.
The Scholars Celebration showcases the diverse and dynamic undergraduate research, scholarship and creative activities at The University of Toledo. Presented by the Office of Undergraduate Research and University Libraries, the event includes student presentations and displays from all disciplines.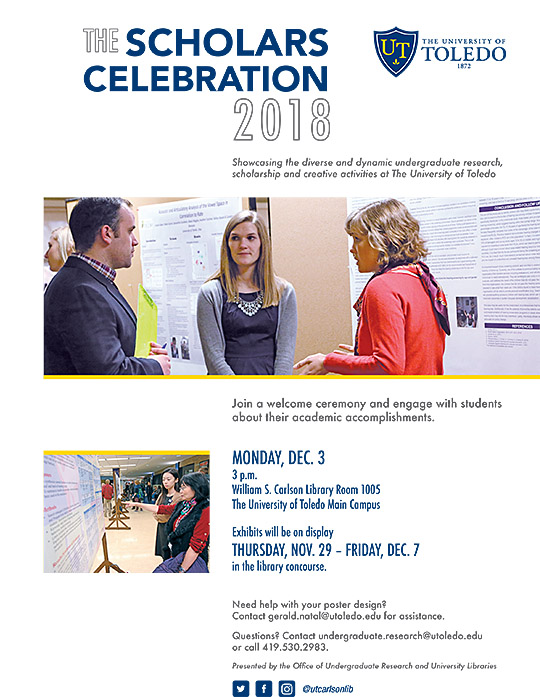 A welcome ceremony will be held Monday, Dec. 3, at 3 p.m. in Carlson Library Room 1005 and offer an opportunity to engage with students about their academic accomplishments. Exhibits are on display from Thursday, Nov. 29, through Friday, Dec. 7, in the Carlson Library Concourse.
"This is the fourth year of this event, and each year it grows," said Dr. Jon Bossenbroek, director of the Office of Undergraduate Research and professor of environmental sciences. "This year, I'm most excited about the increased participation of students from the College of Arts and Letters, as we have students from art, anthropology and English presenting their work."
The Scholars Celebration fosters engagement with the campus community, bringing together students, faculty and staff from across the University to talk, be proud and celebrate the accomplishments of its students. This year will feature art displays titled "The Trees Never Bend" and "Glitched Memory," among others.
"The Scholars Celebration has been a rewarding experience that has allowed me to share my research and receive valuable feedback from both students and faculty members," Nathan Szymanski, a senior majoring in physics, said. "It's also been great to meet others and learn about the fascinating work being done throughout many diverse fields here at UT."