UT Alumni Association offers trip, party for Boca Raton Bowl
---
See you at the Marmot Boca Raton Bowl! The UT Alumni Association has organized a charter plane trip so fans can watch the Rockets play the Temple Owls Tuesday, Dec. 22, at 7 p.m. in Florida Atlantic University Stadium in Boca Raton, Fla.
The charter flight will leave Sunday, Dec. 20, at approximately 4 p.m. from the Toledo Express Airport and return immediately after the game Wednesday, Dec. 23, around 4 a.m.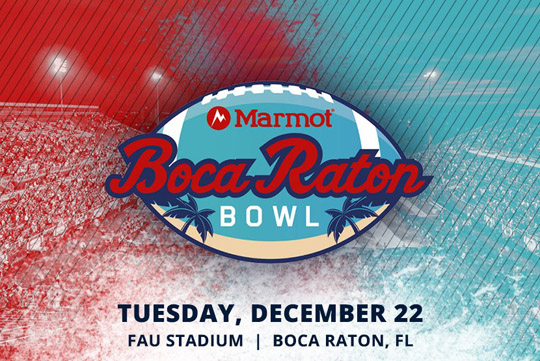 The package includes:
• Round-trip charter air travel with a hot meal on each flight;
• Ticket to the Marmot Boca Raton Bowl kickoff luncheon;
• Marmot Boca Raton Bowl pep rally;
• Fan fest prior to the UT Alumni Association pre-game party;
• UT Alumni Association pre-game party with a menu that will include Key West conch fritters with a spicy Roumalade dipping sauce, Miami paella, Andouille sausage, clams, mussels, poultry and baby shrimp seasoned with rice; oven-roasted Mojito chicken, BBQ pulled pork, tomato and feta cheese salad, roasted corn and bean salad, pasta vegetable salad, Jalapeno spiked coleslaw, truffle kettle chips, rolls and flat bread, fruit and berry salad, key lime pie, cookies, sweet ice tea, lemonade and water. A cash bar also will be available. President Sharon L. Gaber, the UT Rocket Marching Band and UT cheerleaders will be at this event.
• Ticket to watch the bowl game.
• Two-night stay at the four-star Boca Raton Resort & Club.
• Marmot Boca Raton Bowl T-shirt.
• All shuttles and gratuities.
The package cost, based on double occupancy, is $1,200 per person. The cost for a single is $1,450. Those who already have tickets to the game may deduct $40 per ticket.
There are 135 seats available on a first-come, first-served basis. Click here for more information and to register.
The deadline to register for the charter trip is midnight Monday, Dec. 14.
Alumni and fans who are traveling on their own to the game can attend the pre-game party for free, but registration is required. Click here.
Fans who want to make only hotel reservations should call the UT Alumni Office at 419.530.2586 or 800.235.6766.
Those who want tickets to the bowl game can call 419.530.GOLD (4653) or click here.