Songfest set to entertain, raise funds for local mental health center
---
One of The University of Toledo's oldest traditions returns this weekend: Songfest will be held Saturday, March 30.
Students will take the stage for the annual philanthropic event at 5 p.m. in Savage Arena.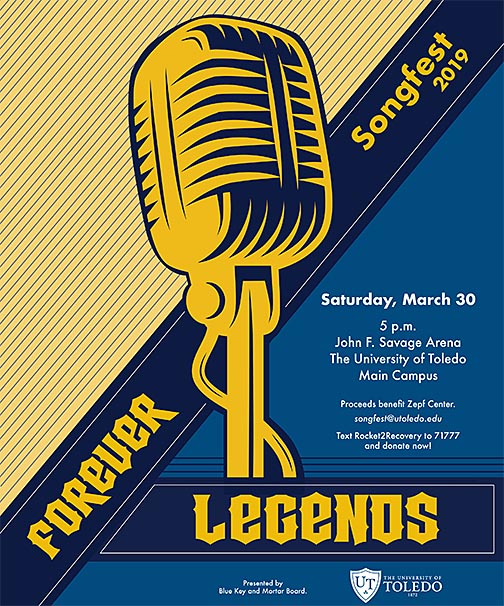 This year's theme is "Forever Legends," and students have set a goal of raising $5,000.
Funds raised will go to the Zepf Center, a Toledo nonprofit that provides behavioral health and vocational services to Lucas County youth and adults with severe and persistent mental illness.
"Donations will go toward diagnosing and treating mental illnesses, as well as community-wide education to help end the stigma associated with mental illnesses," said Sofia Rodriguez, a senior majoring in recreational therapy, who is director of the Songfest philanthropy team.
Twenty-one student groups will participate in the competition. It will be the first year members of the International Students Association will step into the spotlight at the event, according to Jose Viloria, a senior majoring in management, who is director and emcee of Songfest.
"With our theme, 'Forever Legends,' each student group will pick an artist or group and perform a song as a tribute," Viloria said.
Anyone new to Songfest should expect a night of entertainment, as student organizations spend countless hours preparing for the competition.
"Seeing the performances is exciting, just as much as it is rewarding for the individuals participating," Rodriguez said. "The students truly do practice for months just for this one opportunity to show you their skills."
The grand total of funds raised for the Zepf Center will be revealed at the end of the night.
"I am particularly excited to see how much money the University community raises for Songfest," Rodriguez said
Donations will be accepted at the event, or text "Rocket2Recovery" to 71777 to contribute.