Student Employee and Supervisor of Year Honored
---
Cailey Giuffre was named the UToledo Student Employee of the Year during a virtual award ceremony hosted by Career Services. More than 60 students, family members, faculty and staff watched the April 14 online event.
The junior majoring in paralegal studies is a student worker in Parking and Transportation.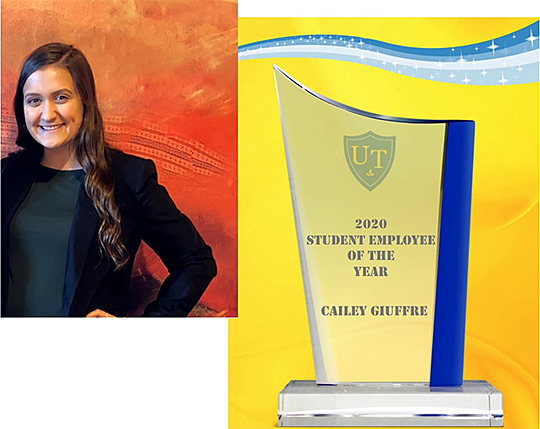 Giuffre received the award given to a student who, in her or his work role, exemplifies reliability, quality work, initiative, professionalism and unique contributions.
"Cailey enjoys staying busy and helping others. Our department's job is to uphold the rules," Sarah Farkas, manager of parking and transportation, wrote in her nomination. "Cailey always acts with high ethics and moral integrity while speaking with every caller or visitor trying to get out of a parking ticket or get away with not buying a parking permit.
"She takes more than 100 calls a day and never knows how she will be treated by the person on the other end of the phone," Farkas wrote. "She treats everyone the same. She is respectful, doesn't raise her voice, is informative, and firm but fair. She is always helpful."
"Having an on-campus job has given me the flexibility I need in order to always be able to put school first," Giuffre said. "With the extra support of my co-workers and boss, I believe I am a more successful student and am more prepared for a career after college."
Guidelines for the award were established by the National Student Employment Association and the Midwest Association of Student Employment Administrators. Giuffre automatically is entered to contend for the state title, with the potential to advance to regionals and nationals.
All 20 students nominated for the award were recognized during the online event. Watch this tribute video, which was produced by Derek Roiter, student videographer in Career Services and film major who will graduate this spring.
"Even though we could not be together on campus for this event, we felt it was important for the show to go on so we could acknowledge the hard work and notable accomplishments of our student workforce," Shelly Drouillard, director of career services, said. "We could not do what we do without our student workers."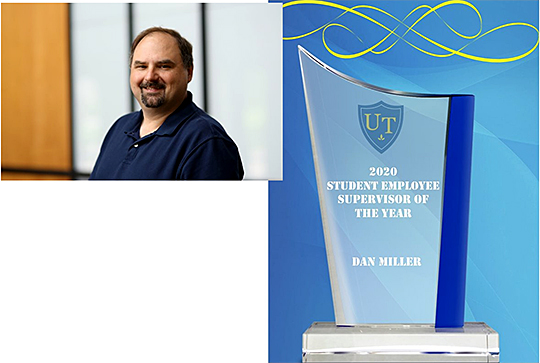 For the first time, a Supervisor of the Year Award also was presented during the program. Daniel Miller, university photographer in University Marketing and Communications, received the inaugural honor.
"The impact Dan has had on my work life, academic life and personal life is astounding. I look forward to coming to work in the morning before my classes I am taking, and if I need advice, I know I can always go to him," Jessica Jacobs, photography assistant in Marketing and Communications, wrote in her nomination.
"Dan's greatest characteristics are patience, relevant advice, and passion for their job," Jacobs, a sophomore majoring in respiratory care, wrote. "Whenever I come to him about a problem, work or otherwise, he always listens to me closely and gives me advice to better the situation. I am grateful that not only I have an understanding boss, but a great mentor in work and in life."
"I love working with students because I have the chance to positively impact their lives by not only teaching, but advising," Miller said.
"Student employees expressed an interest to honor their good bosses," said Joshua Vail, student employment specialist in Career Services. "We were happy to honor that request."
A full recording of the 2020 virtual awards ceremony is available on the UToledo Career Services YouTube channel.