K9 Therapy Topic of Social Work Event Dec. 6
---
Some four-legged special guests will be on campus for a K9 therapy event Friday, Dec. 6, at The University of Toledo.
Hosted by the Human Interaction and Health and Wellness class in partnership with officers from the Franklin County Sheriff's Department, the event will take place from 12:30 to 2 p.m. in Health and Human Services Building Room 1711.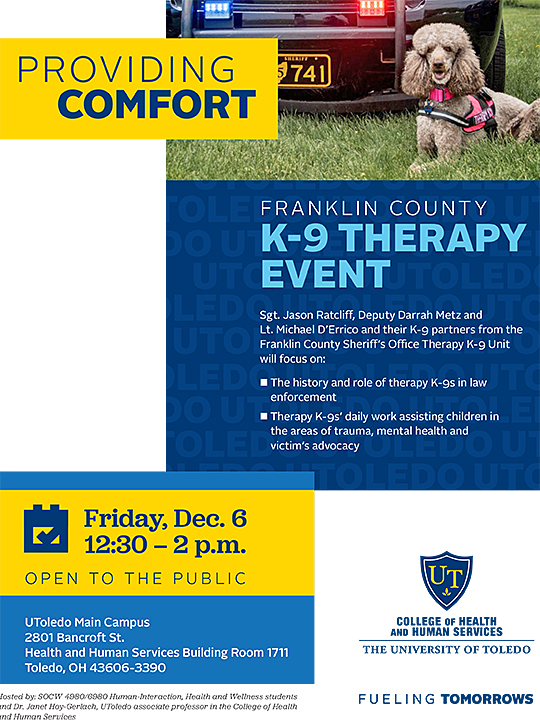 Officers will be drive from Columbus, Ohio, with their therapy dogs for the event.
"Through having the officers and their K9 therapy dogs visit The University of Toledo and share about their work, we hope to raise awareness on how therapy dogs in police settings can benefit both individuals and communities," said Dr. Janet Hoy-Gerlach, associate professor of social work.
Officers with Franklin's Therapy K9 Unit will discuss the history of therapy dogs in law enforcement, and the daily work that primarily revolves around children with a focus on trauma, mental health and victim's advocacy.
The Franklin County Sheriff's Department started the first law enforcement K9 therapy program in Ohio in 2017; at that time, the department was one of six agencies in the United States with such a program.
Therapy K9 dog programs in law enforcement settings typically focus on victim support and advocacy, as well as community-police relations.
"Individuals who experience a traumatic crime can receive comfort and support from the therapy dogs as they go through the various legal system processes," Hoy-Gerlach said.
She added, "Communities may experience more positive police relations through the therapy dogs helping to facilitate positive engagement and interactions during community police work."
For more information on the free, public event, contact Hoy-Gerlach at janet.hoy@utoledo.edu.